Phil Benedict
Pompey — Biographical information: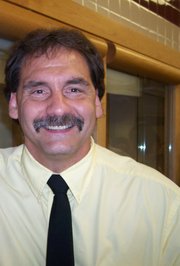 My name is Philip Benedict, and I am running for Pompey Town Supervisor. I have been a resident of the town of Pompey for 23 years. I am 55 years old, and have a son Joshua, who is 23. I work full-time for Syracuse University Physical Plant as a facilities supervisor, where I manage the day-to-day maintenance operations. My responsibility covers everything from grounds care to snow removal budgets, cost estimates, personnel, and union issues as well as construction and special projects. I served as chair for the university's staff complaint board.
Outside of the university I work part-time as a law enforcement instructor/trainer. I have served the town of Pompey for 12 years as a court clerk, court officer and peace officer for the town, and I was chairmen of Pompey's environmental conservation commission.

I served in the United States Air Force as well as the Air National Guard, and the Air Force and Naval Reserves. While in the military, I received the good conduct medal, a longevity ribbon. I have also participated in advance training in chemical warfare and weapons of mass destruction, as well as disaster preparedness and advance training in emergency management response, technical advancements and upgrades on military aircraft. I held a secret clearance while in the military.
After leaving the military I continued my education at Syracuse University, earning an associate's degree in 2005 and a Bachelor's degree in 2012. I am currently working towards a master's degree in public administration.
In my spare time, I actively train in boxing, kick boxing and other forms of Martial Arts. I give self-defense seminars and lectures to local schools, youth, and student groups. I successfully completed the Oswego Peace Officer Academy in 1999, the Central New York Police Academy in 2000 and I was an Onondaga County Deputy Sheriff. I now work part time as a police instructor for the Buffalo Peace Officer Training Academy, where I continue to maintain my peace officer certification while hone those skills with mandatory training required by the Department of Criminal Justice.
(Continued on Next Page)
Prev Next
Vote on this Story by clicking on the Icon