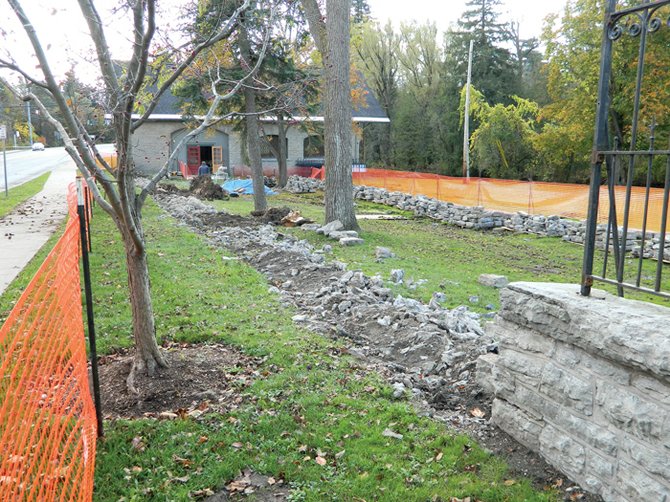 continued — "Anyone who saw the wall from the inside of the park will recall that giant chunks of stone were falling out of it and in some places one could see right through the wall," Mann said.
Walker, who is working in cooperation with the village Department of Public Works crews, started working on the wall on Sept. 23 and has already repaired and repointed a 40-foot section near the park's entrance, said village Public Works Administrator Bill Carr.
The 150-foot section being rebuilt — which is currently screened off by an orange mesh fence — has already had the iron fence and capstones removed, the wall itself dismantled and the stones stacked about 20 feet back into the park.
"They're literally taking the wall apart stone-by-stone," Carr said.
The project will include the installation of four-foot concrete footers that the wall will set on, which will help prevent major shifting, he said.
The timeline for completion of the wall reconstruction is weather-dependent, but it will most likely be completed in spring 2014, Carr said.
When the new wall is complete, a 10-foot, double-hinged iron gate will be installed near Carpenter's Barn, which will create a new access point into the park and barn. This will tie into the new French doors that were added on the north side of the barn, the beginnings of a concrete patio that were poured in that area this summer and an eventual pathway that will connect to the parking lot, Mann said.
"Many of the barn's current uses, such as the summer rec program and the rowing club's training center, in addition to potential future uses such as increased L.L. Bean recreational opportunities or community events will be facilitated by adding an access point there," she said.
Jason Emerson is editor of the Cazenovia Republican. He can be reached at editor@cazenoviarepublican.com.
Vote on this Story by clicking on the Icon