The Skaneateles Country Club was full of laughter and gratitude at the Citizen of the Year award dinner on Oct. 17.
Four Skaneateles residents were honored at the biennial event held by the Skaneateles Area Chamber of Commerce Foundation.
This year's Citizen of the Year honor went to Dr. Bob Werner, who was recognized for his work removing invasive species from Skaneateles Lake as well as other volunteer efforts mainly focusing around the lake and nearby nature.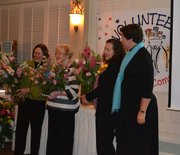 Werner, a retired SUNY College of Environmental Science and Forestry professor, has volunteered his time with the Skaneateles Lake Association, Finger Lakes Land Trust and the Finger Lakes Regional Watershed Alliance.
In recent years, Werner was one of the key figures in establishing the Skaneateles Milfoil Eradication Corporation, a group funded through donations that removed much of the milfoil and other invasive aquatic species from Skaneateles Lake. Milfoil is an invasive species that threatened the lake's ecosystem as well as being pesky for swimmers and fishermen.
He is also chair of the Skaneateles Lake monitoring committee a group that gives the lake what he called an "annual physical," and recently he collected samples of the foam forming in the lake to be tested for toxins.
Executive Director of the Finger Lakes Land Trust Andy Zepp spoke to commend Werner for his efforts at conservation in the Finger Lakes. Werner served on the board of the land trust for six years (their self-imposed term limit) and helped smooth the process with the recent acquisition of a land preserve in Spafford as well as the potential acquisition of land including Grout Brook.
"Bob, based on his scientific training, expertise and passion, has been an advocate, and an effective one, for Skaneateles, but also our entire region, all 11 Finger Lakes," Zepp said.
Bob DeWitt also spoke to summarize many of Werner's accomplishments and add in some jokes.
(Continued on Next Page)
Prev Next
Vote on this Story by clicking on the Icon