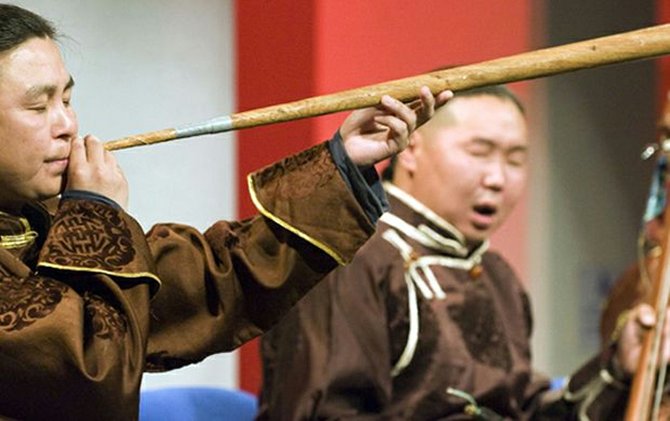 Nelson — The Nelson Odeon prides itself on being a concert venue that not only promotes local music but also brings respected regional, national and international acts to the Central New York area to play for music lovers and music discoverers alike. Next week, the Odeon presents what may be the most unique musical act to yet grace its stage: Alash, a trio of world-renowned Tuvan musicians and throat singers who can create multiple melodic pitches using only their voices.
"We are honored to have such a world-renowned group as Alash come to our humble establishment from the other side of the world. This is some very old, but very cool, music," said Jeff Schoenfeld, owner of Nelson Odeon. "If you are unfamiliar with throat singing, some people call the singers human bagpipes. It's beautiful and haunting at the same time. The members of Alash are also master musicians and play ancient Tuvan instruments which are absolutely fascinating."
The ancient tradition of throat singing (xöömei in Tuvan) developed among the nomadic herdsmen of Central Asia, people who lived in yurts, rode horses, raised yaks, sheep and camels and had a close spiritual relationship with nature. Passed down through the generations but largely unheard by the outside world, xöömei is now the subject of international fascination and has become Tuva's best known export.
The tiny republic of Tuva sits at the southern edge of Siberia, with Mongolia to its south. Tuva has been part of Chinese and Mongolian empires, and shares many cultural ties with Mongolia. In 1944 it became part of the USSR, and is now a member of the Russian Federation.

According to information on Alash's website, The Tuvan way of making music is based on appreciation of complex sounds with multiple layers. Throat singing is an ancient technique that amplifies some overtones while screening out others; it allows a vocalist to spread his or her voice into two-three and occasionally four distinct pitches that can be controlled while the lowest pitch continues on a drone. Tuvan throat singing includes a variety of styles, each associated with a different sound in nature, while the rhythms of Tuvan songs often simulate the loping gait of a horse.
(Continued on Next Page)
Prev Next
Vote on this Story by clicking on the Icon