DeWitt — On Nov. 5, voters in the town of DeWitt will have the choice to vote for up to three candidates for the three available town councilor positions on the town board. Jamie Frank, Joey Chiarenza and Kerin Rigney are the Democrats running and Tony Albanese, Irene Scruton and Lynn Simonetta-Blair are the Republican candidates. Currently, Albanese and Scruton are both councilors on the DeWitt town board.
Incumbents are running unopposed for all other races in DeWitt. Democratic candidate Ed Michalenko is running for town supervisor, Barbara Klim for town clerk, Robert Jokl for town justice and Rocco Conte is running for highway superintendent.
The candidates in the contested town board race are profiled below. For more information about voter registration, polling places and absentee ballots, visit ongov.net/elections.
Democratic candidates:
Jamie Frank
Biographical information: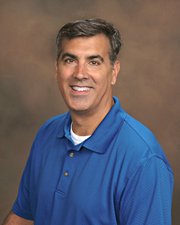 Jamie Frank has been a resident of the town of DeWitt for more than 50 years. He graduated from J-D High School and later received a bachelor's degree in accounting from Ithaca College. He is also a certified public accountant. Frank has worked for 19 years in public accounting with an emphasis in taxation and government/non-government audits and for 11 years as a controller and CFO in various business sectors such as construction, real estate and retail. Additionally, Frank has been a basketball referee for more than 30 years, seven years as a Big East, Ivy League and MAAC official. He is married to Tracy Frank and they have two daughters, Maddy and Alex, who attend J-D High School.
Why are you running for office?
I have lived in the town of DeWitt for more than 50 years and am motivated to improve our town and preserve it for the future. I am very frustrated with the way all government is operating, thus decided it is time for me to get involved in local government in order to make a difference. I am committed to accountability, transparency and fiscal responsibility, and when elected, I will strive to reach these expectations. I am also results-oriented, so I will work hard to reach our goals on a local level. I am small business-friendly and want to assure that DeWitt businesses are represented in order for them to be successful in these tough economic times. I have a record of community involvement, so it's time for me to run for office in the town I love and have lived in for more than 50 years.
(Continued on Next Page)
Prev Next
Vote on this Story by clicking on the Icon