Dougherty is running unopposed.
Third district candidate
Jim Corl
Biographical information: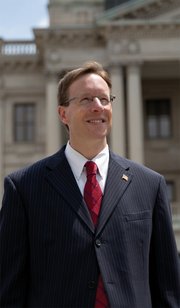 Wife, Amy who is a schoolteacher with the North Syracuse school district, and three children, James (age 11), Jonathan (age 9), Elizabeth (age 4)

Employer: current town of Cicero supervisor/Corl Law Office
Political affiliation/endorsements: Republican, Conservative, Independence, Onondaga County Veteran's Party, Onondaga County Deputy Sheriffs' Police Association, Friends of the Cicero Police, Onondaga County Chapter of Chiefs of Police.
Age: 38
Why are you running for office?
Central New York is a fantastic place to raise a family. There are many appealing attributes such as parks, natural resources and a variety of housing choices. Like all parents, my wife and I want what is best for our children and we would very much like them to choose this area we call home. We must lay a foundation for the future for our county which is one that is welcoming to families and business alike. With this in mind the next generation will have the desire and opportunity to stay in our region.
Why are you the best candidate for this office?
Having the background of serving the town of Cicero as supervisor and town councilor for the last ten years will certainly be beneficial when serving as a county legislator. I have seen firsthand the effects of decisions that are made at the county level and how those decisions affect local municipalities. This experience will be helpful when making decisions at the county level.
What are the major issues facing the district, and what will you do to address them?
Business growth and development is certainly a priory for our region. Attracting, keeping and supporting businesses in our community are critical for the future of the county. Over the last two years as supervisor of the town of Cicero, I have made it a priority to assist businesses. We have already seen the benefits with the development of the Loretto project, expansion of JADAK, Hoffman Sausage distribution and administration building and redevelopment of Aldi's Plaza, to name a few ongoing projects. Although challenging we must continue to find ways to make Onondaga County attractive for businesses.
Vote on this Story by clicking on the Icon