Second district candidate
John Dougherty
Biographical information: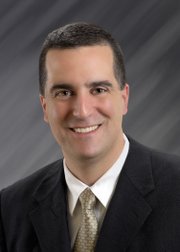 I am 39 years old. I was raised in Western New York and moved to the town of Clay after graduating from college to take a job with Lockheed Martin. I worked in Lockheed Martin's Advanced Development group until 2000 when I left to take a similar position with SRC. I am currently employed with SRC as a principal systems engineer. In addition to my experience as an engineer, I also served several years as the deputy chairman of the town's planning board.

My formal education consists of a bachelor's degree in electrical engineering from SUNY Buffalo, a master's degree in electrical engineering from Syracuse University and a master's in business administration from Syracuse University.
I am married with three children.

Why are you running for office?
When I was first elected, the entire country was in the middle of the "Great Recession." Like everywhere else, Onondaga County was struggling financially as the cost of government rose and its revenues dropped. One of the positive results of this financial crisis was that it exposed some of the waste and inefficiencies that existed in county government at the time. Since then, my colleagues and I have been very successful at cutting some of this waste and reducing the overall cost to the taxpayer. In fact, the current county property tax levy is now the lowest it has been since the 1980s. We have one of the highest bond ratings of any county in New York state, and we currently have a fund balance that allows us to weather a future financial crisis without drastic cuts or dramatic increases in taxes. I am running for office to ensure that this positive trend continues. In my next term, I am going to continue to examine the consolidation of departments and services, increase the use of technology to improve the access and the quality of county services and continue to make sure that the residents of Clay have a strong voice in the legislature.

(Continued on Next Page)
Prev Next
Vote on this Story by clicking on the Icon