continued — Another issue that needs to be addressed is youth services. The children of our community are our future and we need to invest in that future. Many of our neighbor towns have a variety of programs that they either sponsor or help administratively. The town of Salina has some beautiful parks and we have a Learn to Swim program along with the pools. I have heard many complaints about the pools not being open long enough (primarily Mattydale) and about the recent charges implemented for the Learn to Swim program. We can do more and we need to do more. Children that are engaged in supervised activities are less likely to become involved with inappropriate behavior.
There are many other issues facing the town of Salina, like every other town in Onondaga County like increasing taxes, abandoned homes, tax delinquent properties, crime, etc. The key is to recognize the problems, communicate the issues to engage the community and be creative in finding win-win solutions whenever possible.
Mark Nicotra
Biographical information:
Mark Nicotra, 41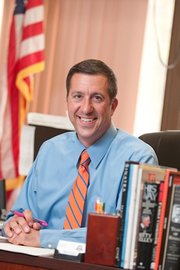 Registered Republican.

Endorsed by the Republican, Independence and Conservative Parties.
Town supervisor 2008 to present
Fourth ward councilor 2002 to 2007
Photojournalist, WSTM TV, 1994 to 2001, 2004 to 2007
Legislative aide to Sen. John A. DeFrancisco, 2002
Lector, St. Daniel's Church
Past Board Member, L'Arche Syracuse
Board of Directors, Italian American Athletic Club
President, Lincoln Republican Club
Member, 2009 Class of 40 Under 40
Member, Liverpool Chamber of Commerce
Member, Greater North Syracuse Chamber of Commerce
Lived in my house for 11 and a half years.
Why are you running for office?
For over 60 years my family has lived in Salina. I have a vested interest in the future of this town. The residents I serve are not only my constituents; they are my friends and neighbors. I owe it to them to continue working with the town board to make Salina a great place to live.

Vote on this Story by clicking on the Icon