Salina — Town supervisor candidates
Patrick Foster
Biographical information: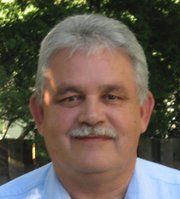 I am semi-retired and my wife Sandei and I have lived in the town of Salina for 23 years. We have three children, Wendy, Robert and Tiffany. We have six grandchildren, and Tiffany and her son Zachary (also known as Triple Z to his teammates) still live with us. I have been a lifelong Democrat that firmly believes in the social justice aspects of the party with a strong emphasis on fiscal restraint. I have been active in the community over the years with various groups and am a past president of the Nate Perry Elementary PTA and the Liverpool High School Marching Band Boosters. I have coached youth basketball for the last three years at Upward Bound and Optimists and am looking forward to the fourth season beginning soon. I am finishing up my second year coaching Pop Warner Mitey Mite (7 to 9 years old) football. I also am a member of the board for the Mattydale Vikings Pop Warner Football and am a member of the Chestnut Elementary PTO and playground fundraising committee.
Why are you running for office?
I believe that the town of Salina is a great place to live and raise a family. I also know that the Town can be an even better place with more effective management of our resources. A critical assessment of where we are, where do we want to be, and how do we get there is essential to the ongoing success of any organization and I do not believe that is happening now. Two years ago the town tried to get voters to approve a $10 million bond to buy property and move the town hall and highway department because the facilities needed drastic improvements. The voters did not approve of the idea. To date, no major activity has been done by the town to remedy the situations that made them think they needed to spend $10 million taxpayer on. Another instance would be hiring an individual that was terminated by another town for theft, and then promoting them to a department head position. One more illustration would be the Jewell Manor improvements made a few years ago where two of the three main streets had curbs installed and were repaved while one street had nothing done. Capital improvements are good when they are done fairly and equitably, but some of the people on Jewell do not feel like they were treated fairly. These are just examples that illustrate the need for more effective management.
(Continued on Next Page)
Prev Next
Vote on this Story by clicking on the Icon