Manlius — On Nov. 5, the voters of the town of Manlius will elect new town officials. The ballot will have two options for a new town supervisor, Republican candidate Ed Theobald and Democratic candidate Mark Tetley. Four Republicans are running for election uncontested for the town councilor positions; Karen Green, David Marnell, Vince Giordano and Jason Cassalia. Additionally, incumbent Republicans are running uncontested for all other available offices: Allison Edsall for town clerk, Bob O'Leary for Town Justice, Laura Peschel for tax collector and Robert Cushing for highway superintendent.
In the town supervisor race, incumbent Ed Theobald and Mark Tetley are running against each other for the second time. In 2009, Theobald took the seat away from Tetley by just 37 votes. Tetley served as town supervisor for one term, from 2008 to 2010, and Theobald has been the supervisor ever since.
The candidates in the contested supervisor race are profiled below. For more information about voter registration, polling places and absentee ballots, visit ongov.net/elections.
Mark Tetley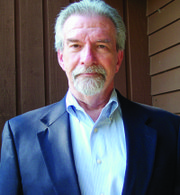 Biographical Information:
As I go door to door this year meeting with voters, I am frequently asked the question, "You've been there, done that. Why do you want to get involved in the political process again?" I have lived and/or worked in the town of Manlius for more than 45 years, and the community has been good to me both professionally and personally. I have always felt that as a responsible citizen, it is important to give back to the community. I came here in 1967 to attend Syracuse University, graduated in1972, and stayed in CNY to marry Harriet, and thought it was a wonderful place to raise our four children and run a business.
I was a business owner in the village of Manlius for nearly 30 years, and I currently sell insurance for MassMutual and United Health Care, Medicare Solutions. I am a board member of the Greater Manlius Chamber of Commerce, a trustee of the Manlius Historical Society and participate in other organizations in the community.
(Continued on Next Page)
Prev Next
Vote on this Story by clicking on the Icon