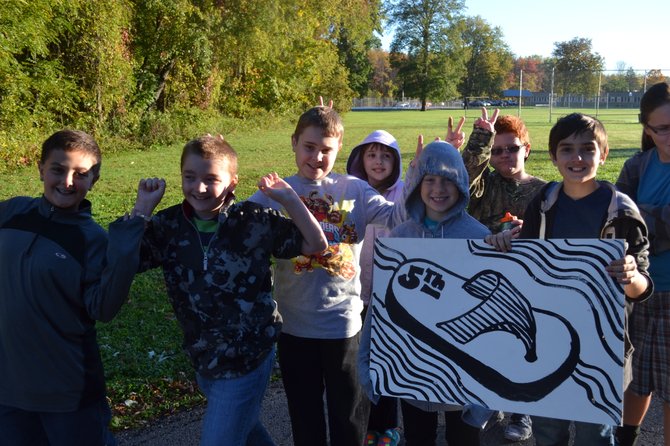 continued — In the ESM district, every student has the option of taking the bus, no matter how close they live to their respective schools. And Kirkman said that over the years, she's generally seen more Minoa students walking, but this fall, there was a big dropoff.
"This fall, many of the children that I used to see walking to school are taking the bus. So I hope that with Walk to School Day this year, it's a subtle reminder of how close they really are and that they can walk. We have crossing guards and sidewalks that make it safe to get to our school," Kirkman said.
Following the walk, the students assembled in the gym to listen to the guest speaker. In past years, they've had a nutritionist, a children's yoga teacher, and a Fleet Feet employee, but this year, the speaker was the ESM district's own school information officer, Marcia Kelley.
Kelley told the students that she's lost 55 pounds over the past four years and explained how she started by just walking her dog around the neighborhood and kept pushing herself to do more. She's since completed two Iron Girl marathons and just participated in the Ride for Missing Children, in which she biked 100 miles in one day.
"You don't have to accept that you're aging, that things aren't moving as well as they once were and that you're going to gain weight and not be as healthy as you once were – it doesn't have to be that way," Kelley said afterwards. "You have choices you can make, and I chose not to go down that path. I want to be one of those senior citizens who's running all over the place and doing all sorts of activities."
Meanwhile, in the village of Skaneateles, the Oct. 9 event is one of two Walk to School Days held each year. The October event focuses on health and fitness and the other Walk to School Day, held on Earth Day, concentrates on having children to get to school in the most eco-friendly way possible.
Vote on this Story by clicking on the Icon