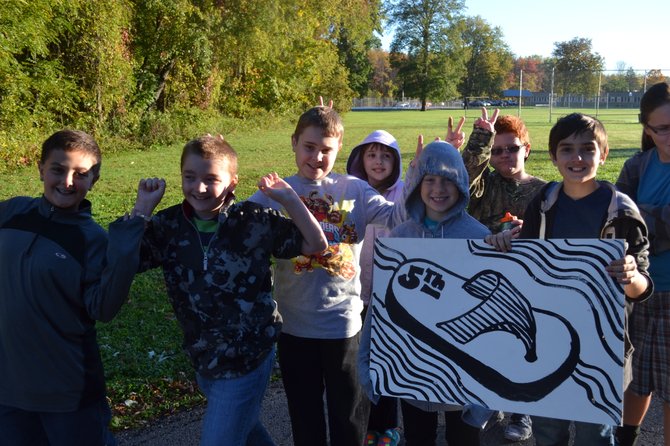 Minoa — Since 1997, schools across the nation have been participating in the International Walk to School Day, which occurs one day each year in early October. On the morning of Oct. 9, five Central New York schools participated in the event: Minoa Elementary and Fremont Elementary in the East Syracuse Minoa school district, Waterman Elementary and State Street School in the Skaneateles school district and McKinley-Brighton Elementary in the Syracuse City school district.
According to the event's website, more than 4,000 schools across the county participated this year. Christine Kirkman, the school nurse at Minoa Elementary School, started the event six years ago to help remind kids and parents that a 10 or 20 minute walk to and from school can go a long way in terms of physical fitness.
"It highlights how it's important to think about our activity and how we can change our lives in small ways," Kirkman said, "I think everybody has become more aware that children have become more sedentary than in previous decades, but I think it's a small thing that a school can do to raise awareness about how this could be an easy way for a child to get exercise."
Each school has its own way of celebrating the day, and at Minoa, the whole school lined up and took a 20 minute walk together to start the school day. Kirkman oversees an after school walking group, comprised of 30 second and third graders, who lead the school on the walk each year. The rest of the school follows by grade level, starting with Kindergarten and ending with the fifth graders.
"The children in the walking group become the leaders on Walk to School Day for our school," she said. "It gives them a sense that they are already leaders in walking, and now they're leading the whole school. It's a lot of fun for everyone."
(Continued on Next Page)
Prev Next
Vote on this Story by clicking on the Icon