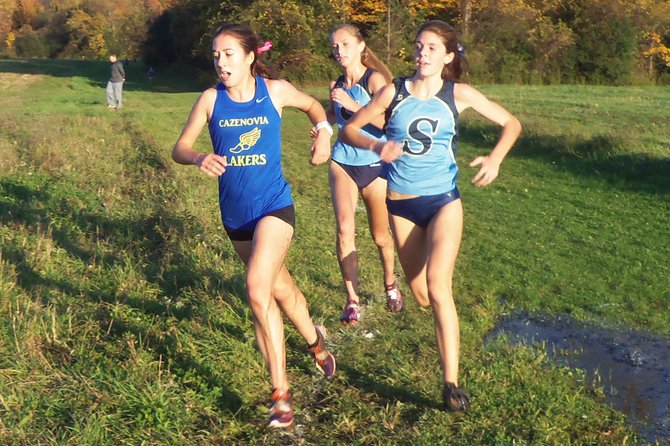 Cazenovia — Behind the unrelenting upfront power of race winner Kaitlyn Neal, runner-up Liz Dwyer and fourth-place place finisher Madeline Adams, the state Class C no. 2-ranked Skaneteles girls cross country team raced past no. 3-ranked Cazenovia Tuesday afternoon in a first-place OHSL Liberty division showdown.
"We raced well," said co-coach Rob Tuttle. "We raced sick. We raced with some other health problems that are improving. And we beat a strong team that's well-coached."
The last time Skaneateles traveled to Cazenovia's 3.03 mile course at the Sean Googin Memorial Sports Complex, they wrapped up their 88th and 89th straight league wins over Cazenovia and the combined teams from Bishop Grimes/Bishop Ludden back in 2007. Just a few weeks later, that win streak would end at 93, covering a span of nearly 15 years.

"We don't like coming up short and we try to develop that same mindset, that work ethic, that attitude and the desire to excel in the girls," said co-coach Jack Reed. "They're capable of so much more than they think. We like the process of growing them."
With a win next Wednesday against another big rival, Jordan-Elbridge, at the Polo Grounds on Andrews Road, the Lakers can repeat as league champions. It'll be the team's 19th title since 1990.
As usual, the Cazenovia course presented a challenge of deep, shoe-sucking mud, but in an unusual twist, the air, high atop the verdant hills east of the village, was nearly calm with the 117-foot blades of the 328-foot General Electric-built turbines on Fenner Hill sitting still 1,768 feet above sea level.
Neal, who has won three meets and remains the top-ranked runner in Class C in the state, won again after pulling away from the field on the third loop. The sophomore finished in 19:30 as she entered the colorful finish chute 26 seconds before Dwyer, who has become a torrent of fury in races.
(Continued on Next Page)
Prev Next
Vote on this Story by clicking on the Icon