On Nov. 5 the voters of Skaneateles will elect new town officials. The ballot will have two options for a new town supervisor, Jim Greenfield and Mary Sennett, and four options for two available town councilor positions, Connie Brace, Rick Keyes, Steve McGlynn and Claire Robinson Howard. Three Republicans are running for election uncontested for the other available offices: Janet Aaron (incumbent) for town clerk, Lori Milne (incumbent) for tax collector and Allan Wellington for highway superintendent.
The town councilor races pit two incumbents against two newcomers. The town supervisor race, regardless of the outcome, will lead to some shuffling of public officials. Incumbent supervisor Terri Roney, is not seeking re-election and two current public officials are vying for that job.
Greenfield, if elected, would have to resign his current position as town councilor. His elected term runs through 2015. The town supervisor and councilors would then appoint a replacement.
Sennett, if elected, would resign her seat on the village board of trustees. Her elected term started on April 1 of this year and will run through the end of March 2017. The mayor, under advisement of the trustees, would appoint a replacement trustee to serve the remainder of that term.
Sennett, Brace and Robinson Howard, who are all registered to vote as Democrats, chose to run on the Skaneateles Party line, though they are also endorsed by the local Democratic committee. Greenfield, Keyes, McGlynn, Aaron, Milne and Wellington are all running as Republicans and also carry the Independence Party endorsement.
The candidates in the contested races are profiled below. For more information about voter registration, polling places and absentee ballots, visit ongov.net/elections.
Town supervisor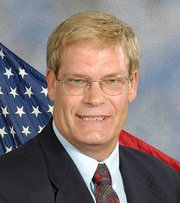 James H. Greenfield
Nickname: Jim or Skinny
Affiliations on ballot: Republican, Independence
Age: 60
Background: Greenfield is a lifetime resident of Skaneateles, father of four and co-owner of Greenfield Farms LLC. He has been a member of the town board since 2008 and deputy supervisor since 2010, occasionally running meetings in the event that supervisor Terri Roney is absent. He currently serves as the town board liaison for animal control and the highway water departments. He is a founding member of the Skaneateles Watershed Agricultural Program and received the program's Environmental Steward award in 2004.
(Continued on Next Page)
Prev Next
Vote on this Story by clicking on the Icon