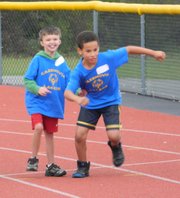 Canastota — Seven student-athletes from Burton Street Elementary School took to the athletic fields last week to participate in track and field competitions in this year's Madison-Oneida BOCES Special Olympics Autumn Games at Canastota High School.
Sage Byrnes, Kodi Callahan, Ian Decker, Zach Streeter, Connor Wilcox, Connor Zampetti and Anna Linck joined 250 other athletes from nine other districts in Madison and Oneida counties to compete in track and field events including the 100-meter, 200-meter and 400-meter dash, shot put, running and standing long jump and a softball throw. The event also includes Adaptive Games for athletes not able to compete in traditional events.
The 260 athletes were joined by 100 volunteers who helped run events and assisted athletes in getting to their events on time. For the Cazenovia team, Cazenovia High School students Joe Zambito, Andrew Vogl, Carter Biviano, Trevor Cross, Noah King and Jessie Matt volunteered to be the student-athletes' assistants.
The event began with all the teams marching into the Canastota track complex by school delegation in the traditional Parade of Athletes and Opening Ceremonies. The parade was led by the Canastota Marching Band, and the Canastota Select Choir sang the National Anthem.
"We have so much to celebrate today," MOBOCES Education Coordinator Laurie Ann Ross, a longtime Special Olympics organizer, said before officially opening the event. "This is a day of excitement, laughter and, most of all, fun."
The athletes then all recited the Special Olympics oath — "Let me win, but if I cannot win let me be brave in the attempt" – and the games began.
Caz athletes Connor Wilcox and Connor Zampetti both participated in the standing long jump and 100-meter dash and won ribbons for their efforts. Both said they had a lot of fun.
"Connor is very excited about this," said Victor Zampetti, Connor's father, who was on hand to watch and cheer for his son. "This is our first time. The kids are doing great."
(Continued on Next Page)
Prev Next
Vote on this Story by clicking on the Icon