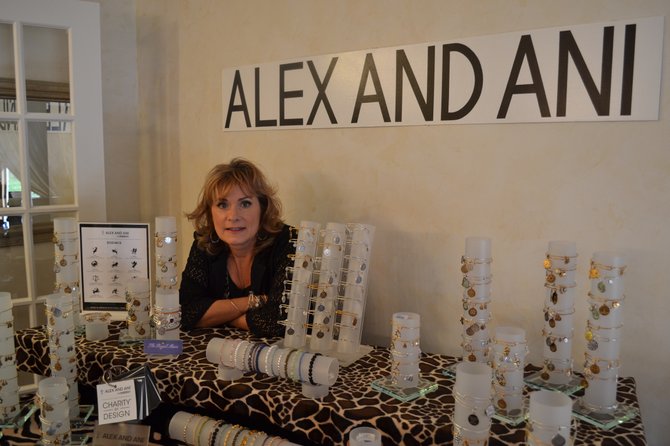 Fayetteville — Since 1987, Deborah Royle has operated the Royal Treatment Day Spa, where she specializes in massages, anti- aging facials and permanent makeup. But now she's looking to spice things up a bit with the introduction of the Alex and Ani line of jewelry, which she just began offering this month.
Alex and Ani was started in Rhode Island in 2004 by a woman named Carolyn Rafaelian, who describes her product as "more than just pretty jewelry; they are unique statements that speak volumes about those who wear them. They are symbols marking individual paths of life."
Alex and Ani bracelets are similar in concept to charm bracelets in that they each have a symbol that relates to the person who wears them. But instead of adding charms onto one bracelet, Alex and Ani wearers have separate bracelets, each with a different charm or symbol, which represent the person who's wearing it. Essentially, a person compiles a "sleeve" of bracelets instead of having one bracelet with many charms.
"People wear these because they bring them positive energy and it makes them feel like they're a part of something bigger," said Royle. "I think it's not just about wearing the jewelry, it's the symbolism of the jewelry that really appeals to people."
The bracelets are about much more than looking pretty – 20 percent of the proceeds for a large portion of the product in the store go directly to charities. For example, there is a bracelet with a puzzle piece for autism, and every time someone buys one, a charity for autism gets some of the proceeds. And there are bracelets for almost anything you can think of: breast cancer, multiple sclerosis, ethical treatment of animals and world peace, to name a few.
"One of the biggest reasons we were attracted to this jewelry is because some of the bracelets stand for things we really feel strong about, such as beauty, truth and justice," Royle said. "We want to make sure we're doing this for a reason and that we're not just selling jewelry to sell jewelry. This line really incorporates how we feel about the beauty industry in conjunction with charitable causes."
Royle said that she also tried to incorporate as many Upstate New York-related bracelets as possible, such as an apple bracelet and bracelet with a grape charm, for the orchards and wineries in the area. But you can find almost anything on these bracelets you can think of, whether it be birthstones, religious symbols or astrological signs.
The Alex and Ani bracelets start at $24 and can be found at the Royal Treatment Day Spa, 7237 Highbridge Road, Fayetteville. For more information, call 637-4741.
Vote on this Story by clicking on the Icon