"I encourage them to do it, partially for financial reasons and partially for the environment," he said.
Thompson's system, which would be cheaper today, was installed in 2010 and cost $17,000, though the actual price ended up being about $5,900 after rebates and tax credits.
The panels on his garage generate about 75 percent of the electricity for his house, which uses both oil and electric heating. The house also has a solar hot-water system (which cost an additional $2,000) that handles 100 percent of the house's year-round hot water needs. He said he expects the savings to have paid for the initial cost after eight to 10 years.
While the tour demonstrated people that have installed alternative energy at their homes, the exhibitors at the village hall showed how local groups are leading the way in innovation in energy too. The Cornell University Cooperative Extension had a display on bio-fuels, a potential way to power cars and heat homes that wouldn't rely on fossil fuels.
Jordan-based Kohilo Wind had one of their small portable wind-turbines on display at the received international patent protection, sales associate Joe Mannion said.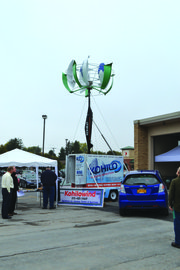 Kohilo has designs that can be mounted on rooftops, grain silos or at other low-altitude locations and still generate energy more efficiently than the industrial-size turbines by being able to generate energy at low wind speeds and with wind from any direction.
Their short height makes them ideal for home use and would be allowed by towns, like-Skaneateles that have moratoriums, or restrictions, on turbines or other structures of a certain height, Mannion said.
The model on display at the village hall was a portable trailer wind generator that could supply power in the event of a power outage or at a remote location. Unlike gas powered generators, or even other wind-powered devices, the Kohilo generators are totally quiet, he said.
For more information on the houses featured in the tour visit sustainableskaneateles.wordpress.com.
Joe Genco is the editor of the Skaneateles Press. He can be reached at editor@skaneatelespress.com.
Vote on this Story by clicking on the Icon