continued — "It was just overwhelming," said Army veteran Bill Pavlus, of Skaneateles. "So many people came up to me because of my hat [that said WWII veteran] to thank me. The welcome we received here [at Reagan airport], the motorcycle escort. A 15-year-old boy came up to me to thank me. He said 'Thank you for your service, sir.' It just struck me as wonderful."
"I was overwhelmed by the reception we got when we came in. I almost broke into tears," said Pat Heagerty, an Army vet from Manlius, who taught in the Fayetteville-Manlius school district for 35 years.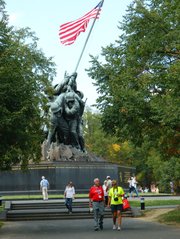 When the Honor Flight buses arrived at the World War II Memorial on the mall, nobody knew what to expect and whether or not the memorial would be closed to visitors due to the government shutdown, as has been reported in the national news all last week. The barriers were up, and a National Park Service ranger stationed at the entrance, but the barrier was easily moved aside and the vets streamed in to their memorial, with no government official telling them to stop. The same thing occurred at the Korean and Vietnam War memorials.
At the Lincoln Memorial, however, in between the Korean and Vietnam War memorials, the barricades were set at the bottom of the steps leading up to the Grecian Temple dedicated to the Civil War president. On the barricades were signs reading, "This site is CLOSED. Do not enter." Hundreds of visitors were standing at the barricades or on the ground in front of the memorial, shading their eyes from the sun to look up and catch a glimpse of the marble Lincoln, taking pictures with zoom lenses fully extended and lamenting their inability to walk up the steps.
That's when Army vet Bova, who served as an MP in the European Theatre in 1945 at age 18, decided to move aside the barrier and walk up the steps to see the president he greatly admires.
Vote on this Story by clicking on the Icon