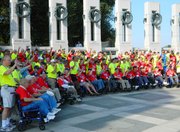 Washington D.C. — Volunteers and vets with Honor Flight Syracuse tore down a roadblock at the Iwo Jima Memorial and crossed the barrier at the Lincoln Memorial during their trip to Washington on Saturday, Oct. 5, refusing to let a government shutdown bar them from visiting national memorials to themselves, their comrades and their military branches of service.
"I opened the gate because I wanted to see Abraham Lincoln," said Army veteran Vincent Bova, of East Syracuse, who walked through the barrier at the Lincoln Memorial, causing a huge rush of people to follow him and a large law enforcement response. "Why are they punishing us? They wanna play like little kids … the hell with them."
"You don't mess with vets or people helping vets," said Jack Haggerty, of Skaneateles, an Honor Flight volunteer who helped remove the Iwo Jima roadblock.
"I thought we were going to have a confrontation. I was ready to get out and go!" said Duane "Bucky" Walters, a Navy vet of Camillus, at the Iwo Jima Memorial. "Who is the government? We are the government," he said about the shutdown and the closing of services and the national parks. "If somebody said to me to join the militia right now, I would!"
Saturday's trip was the second by Honor Flight Syracuse, an organization dedicated to honor America's veterans by transporting them to Washington, D.C. to visit the national memorials dedicated to their service and sacrifice at no cost to them. This trip had 62 World War II veterans from across central New York, along with 62 "guardians" – assistants (mostly family members) who traveled with each vet – and numerous Honor Flight staff and volunteers.
The veterans left Syracuse at 7 a.m. to fly to Washington D.C., where they were greeted at Reagan National Airport by a large crowd of citizens and politicians, and a band playing patriotic music. The veterans then traveled by bus to visit the World War II, Korean and Vietnam war memorials, Arlington National Cemetery and the Tomb of the Unknown Soldier, the Iwo Jima Marine Corps Monument, the U.S. Air Force Monument, then a return flight to Syracuse that same evening. At Hancock International Airport, the veterans were greeted by a large welcome home ceremony of family, friends, politicians and citizens.
(Continued on Next Page)
Prev Next
Vote on this Story by clicking on the Icon