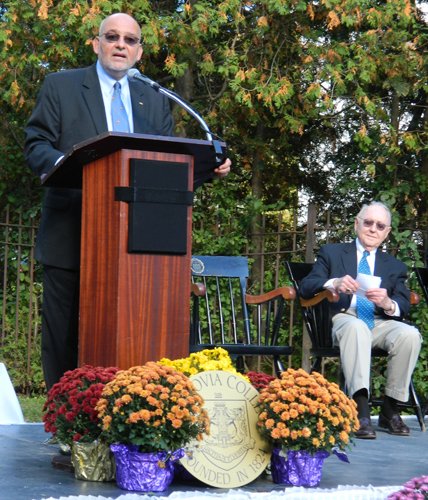 Cazenovia — More than 100 people showed up last Saturday, Sept. 28, for the official naming ceremony of Cazenovia College's new "Jephson Campus" at 10 Albany St. The event was held in honor and recognition of the recent $1 million commitment from the Jephson Educational Trusts to the college as part of the college's ongoing, multi-million-dollar campus improvement campaign.
The Trusts' donation will go toward the planned refurbishment and expansion of the college's studio-arts facilities on the site previously known as South Campus. These improvements are anticipated to include the construction of a third building on the site and the upgrade and improvement of the current Building A.
"Naming this historic place today 'Jephson Campus' is truly testimony to the generosity and vision of Lucretia Davis Jephson," said Cazenovia College President Mark Tierno during the ceremony that was attended by college administrators, trustees, faculty, alumni, students and parents, as well as by Cazenovia village officials and residents.
Jephson, whose family has "deep roots" in the Cazenovia community, had a great interest in education during her lifetime, said Bob Taisey, a trustee of the Jephson Educational Trusts.
Jephson's father, Robert Benson Davis, was born in Pompey in 1843 and was the founder of the Davis Baking Powder Company. He purchased the Hillcrest estate in Cazenovia while the mansion was still under construction in 1905. Lucretia and her husband George Jephson owned the property until her death in 1979.
Jephson established the Jephson Educational Trust No.1 in 1946, while a second educational trust was created by her will. Both trusts were created to benefit mainly educational institutions. Jephson's will designated four specific colleges to be assisted by the second trust, of which Cazenovia College was one, Taisey said.
Because of this, and because Jephson was "so influential" in Cazenovia, the Trusts felt it to be "fitting" to make its recent donation to the college's fundraising campaign," Taisey said. "I hope this campus thrives," he said during brief remarks at the ceremony.


(Continued on Next Page)
Prev Next
Vote on this Story by clicking on the Icon