Cicero — Town supervisor candidates:
Judy Boyke
Biographical information (family, employer, political affiliation, number of years in home, etc.):
Democrat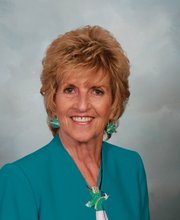 My husband Edward W. Boyke, Jr., and I are both lifetime residents in the town of Cicero. My parents Art and Helen Sadler built their home at 6303 Muskrat Bay Road in Brewerton in 1939 where Ed and I reside today. My family history in Cicero dates back to its establishment in the 1800s, as well as my husband's. Their homestead still exists at the four corners of South Bay Road and Route 31. My father Art was an entrepreneur having a coal business, fuel oil business and started the first trash pickup business in Brewerton. Art and Helen Sadler were part of the original Brewerton Volunteer Fire Department and auxiliary.
We have three married children, Walt and Candiece McArdell, Scott and Ellen Woodard and Melissa & Patrick Brown and are blessed with six grandchildren.
After graduating from Central Square School I went to work for Blue Cross Blue Shield in Syracuse. Shortly after that I had the good fortune to gain employment with General Electric Company. I received all my formal education through General Electrics Companies Internship training and educational programs. During the 33 years of my career I worked mainly in the sonar division. Working my way up through the ranks in the secretarial, individual contributor and programming control positions proved my ability to continue up the corporate ladder. As a supervisor I was required to develop and implement process procedures and work routines that were required for supporting groups in the transducer assembly operation. I supervised over 70 hourly, union employees working in a controlled classified manufacturing environment. I established efficient methods to create job interest and versatility. As a manufacturing project manager my responsibility included preparing master schedules and implementing them. Preparing resource planning data to assist shop operations in level loading personnel was required to meet high level deadlines. Assisting cost estimators to develop plans for supporting personnel associated with several individual government programs.

(Continued on Next Page)
Prev Next
Vote on this Story by clicking on the Icon