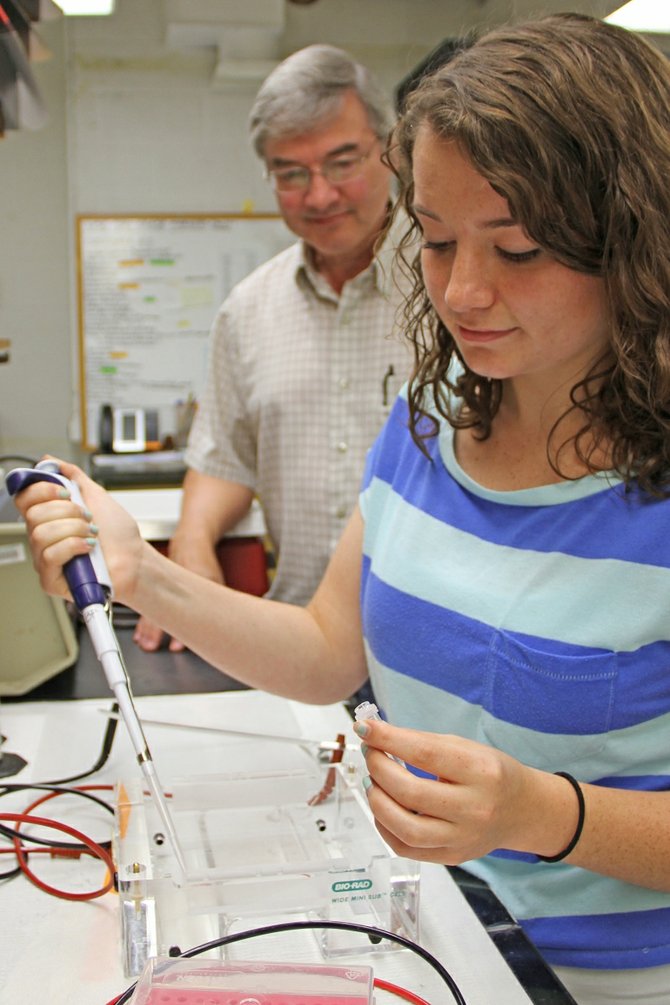 Reagan described going into the fields of genetically modified trees to collect samples. DeRosa estimated that they collected 50 samples in two days in the field.
The internships were arranged by Skaneateles High School science teacher Rick Garrett, a graduate of SUNY ESF who has been sending student interns to work with Professor William Powell since 1997. This summer's group was the largest yet.
Garrett said he is pleased to raise awareness for the underappreciated field of plant science, where there are "numerous professional opportunities at every level." In addition, the things students learn in the summer in the plant science laboratory can also be applied to biomedical research.
Garrett likes to expose his students to the "rare opportunity" to work inside a lab because it "strengthens their interest in science. They don't know it is interesting until someone shows them," he said.
There are so many lessons to be learned, including this one, as noted by Regan: "I learned it was OK to fail. Nothing works the first time … keep trying, and ask for help," she said.
Lane said she was very excited to get the opportunity to work in a lab this summer at SUNY ESF. "I applied for the internship at SUNY ESF because I wanted to get a better feel of what a career in the plant sciences or genetics field would be like."

Lane, Buell and Lovier all worked in a tissue culture lab under the guidance of Professor Charles Maynard and Skaneateles High School alum Allison Oakes, now a Ph.D. candidate.

The three did foundational work on trees that have serious disease or pest problems. Lovier worked to put black walnuts into tissue culture, as the first step in engineering resistance to thousand canker disease. Similarly, Lane worked to make eastern hemlock resistant to woolly adelgids and Buell worked to make white ash resistant to the emerald ash borer. All three also did work to transform the American elm with a specific protein to potentially increase resistance to Dutch elm disease.
Vote on this Story by clicking on the Icon