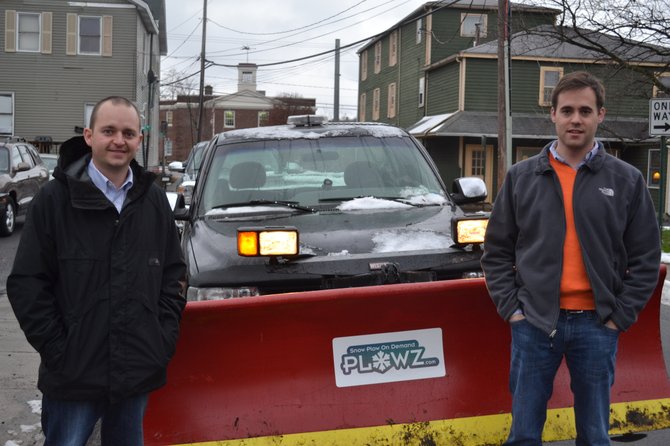 continued — "On top of that, [the drivers] don't have to chase down the money and the customer doesn't have to come outside to hand over bills, it's all taken care of," Mahoney said. "One of the biggest problems these guys have is that when they do the one-time jobs, they sometimes have to chase down the money for months. We manage everything for them."
Mahoney and regional sales director Bob Doolittle have spent the last couple months reaching out to both independent drivers and plowing companies to bring in drivers to work for Plowz. So far they have more than 20 drivers, and that number has been climbing every week. Doolittle said that because being part of Plowz is a win-win situation for drivers, it's made recruiting them that much easier.
"It's a no-brainer, in a way. It's a little extra cash for them while they're on their normal routes," Doolittle said. "We're basically bringing in clients while they're out doing their usual work. We've made it so they can pick up more work while they're on the way to a job."
And they're making sure to choose drivers carefully. Only those with insurance can work for Plowz.
"We're not going to hire some guy who does [plowing] on the side, we require them to be insured," said Doolittle. "We want responsible drivers with a track record and a history of doing this."
One of the things that makes Plowz different from your usual plow company is the fact that it's flexible when it comes to scheduling a job. Customers on vacation can schedule to have their driveways plowed a few hours before they return home and the app also gives users the option of entering multiple addresses.
"So if you have a grandmother living in the area who can't get out of her house, you can request a plow to take care of your house and hers," said Mahoney.
Vote on this Story by clicking on the Icon