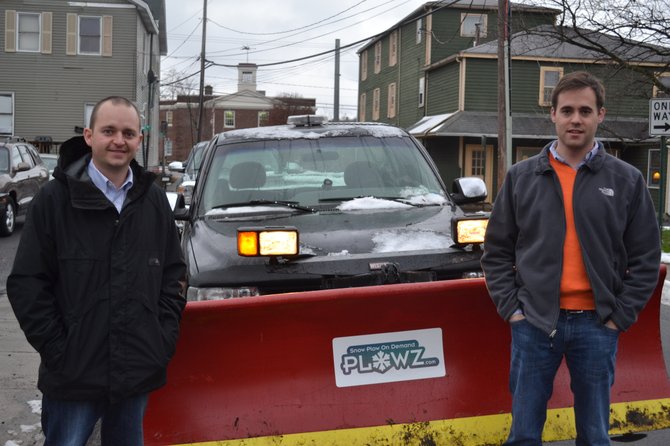 Manlius — A brand new app has arrived exclusively for Central New York residents and it's here just in time for the long winter.
Plowz is a free app, available for both Apple and Android devices, which allows users to request a snow plowing completely through their smartphone or tablet. It was created by co-founders William Mahoney, of Manlius, and Andrew Englander, of New York City.
"You can tap a few buttons while still lying in bed and in a short period of time, you'll have a plow driver at your house," Mahoney said. "If you call a plow company at 5 a.m., you're going to get an answering machine and you're probably going to be one of their last stops of the day. We've optimized this so that we can track the GPS location of all of our drivers at any given time, and the driver that's closest to you is going to get the job."
When customers download the app, they are asked to provide as much information as possible about their driveways for a couple reasons: so the driver knows what to expect and can get the job done as efficiently as possible and to determine the cost of the plowing. Rates start at $25 for a one to two car-length driveway and go up based on length. Users also have the option of entering their house and mailbox colors to make it easier for drivers to locate them.
Next, they're asked to select the timeframe in which they would like the plow driver to arrive. As of now, drivers can be scheduled for as early as within one or two hours or as late as the following morning.
Then a notification is sent out to each driver, and whoever has the closest route to the person's house will pick up the job. The customer then gets a notification saying that someone has taken the job and will get another when the driver is on the way. Once the plowing is done, the driver takes a picture of the finished driveway, which is automatically sent to the customer, and goes on his or her way.
(Continued on Next Page)
Prev Next
Vote on this Story by clicking on the Icon