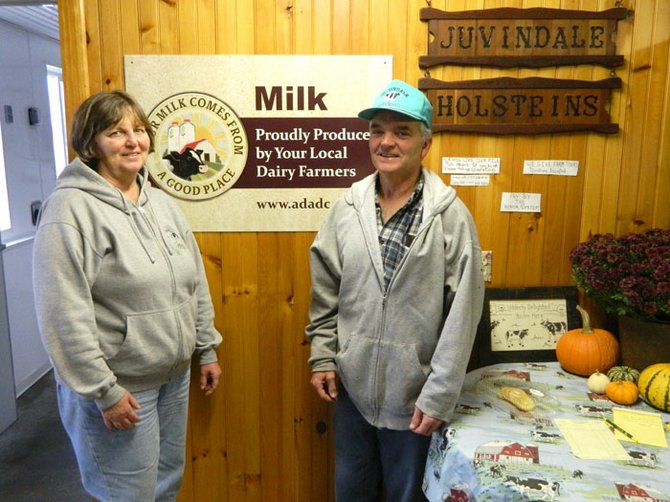 continued — Volz said Greyrock sells about 25 or 30 gallons of milk per day currently, with a herd of nine, grass-fed cows. Volz said he was happy to help Wagner because he knew there is a high demand for raw milk that they can both benefit from. Also, their products are slightly different since Greyrock cows eat only grass while Ju-Vindale cows are fed a grain-grass-corn-soybean blend.
So the state inspector visited Ju-Vindale, looked at the cleanliness of the facilities, tested every one of its 80 cows, inspected every piece of equipment and took samples of the farm's water and milk. "They were very impressed," Vincent said. "They said we had a very high quality farm."
On Sept. 6, the New York State Department of Agriculture and Markets issued Ju-Vindale a permit allowing the farm to sell fresh, raw milk directly to consumers at their farm on Ballina Road. The state will return every month to continue inspecting and testing the cleanliness of the farm and its milk.
In the two months since Ju-Vindale has had its raw milk for sale, sales have been slow, but increasing.
"I thought people would jump right on this," Vincent admitted. "But it takes time to build a customer base."
"It's slowly picking up," said Juliet. "We're trying to figure out supply and demand."
The good news, they both agreed, was that they are seeing a lot of return customers and many new customers come in to buy their milk.
The Wagners admit that one challenge they face is the skeptical mindset of many consumers about the benefits or dangers of raw milk versus pasteurized milk. They may also be missing opportunities by their lack of a website or Facebook page, Vincent said, but they do see the market opening up for them, especially in potential local partnerships.
Vote on this Story by clicking on the Icon