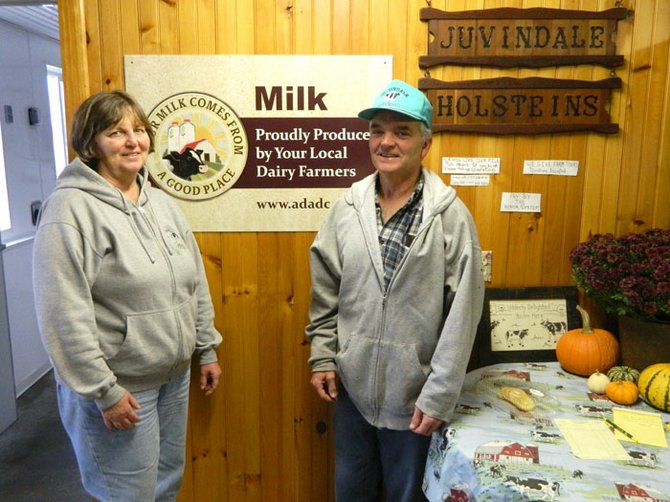 continued — Vincent Wagner has heard all these arguments before, and knows them well, but, he says, raw milk is far different — and cleaner — today than it was in the 1920s because of farmers' knowledge, state and federal health regulations and today's technology.
"Some farms are cleaner than others … your milk tastes like your barn smells," he said simply. "We've always drunk our own milk."
Any visitor to Ju-Vindale Holsteins will see the impeccable cleanliness of their barns and understand why the Wagners are so confident in the high quality of their milk. It was because of this high quality, coupled with the economic downturn of the past few years, that the Wagners decided to sell their milk directly to consumers.
In the beginning of 2013, Holstein prices were down, farming costs were up and the Wagners, like many other farmers in New York and the U.S., needed more income. So Vincent asked himself what else he has on his farm that he could sell to generate more profits. He knew of the eagerness of many people to buy local and was reminded earlier this year of the proximity and popularity of the Cazenovia Beverage Trail — Ju-Vindale is located between the upcoming Empire Farmstead Brewery and Critz Farms — so he thought, "I'm right in the middle of this, just with a different beverage, and one for all ages."
So Wagner called his friend and dairy colleague Matt Volz at Greyrock Farm on East Lake Road in Cazenovia, who also sells fresh, raw milk, and asked him how he could get started with state inspections and certification.
Volz gave him the name of the state inspector for the Cazenovia region and encouraged him to pursue the license.
"We've been selling [raw milk] for three years now and having really good success with it, and people seem to really want it," said Volz. "We haven't been able to keep up with the demand on our end."
Vote on this Story by clicking on the Icon