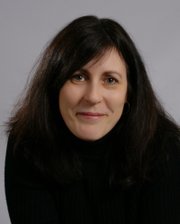 First-time published author Janine Werchinski-Yates will launch her children's book, "The Secret Sock Club" at a local event from 11:30 a.m. to 1:30 p.m. Saturday, Dec. 7, at the Baldwinsville Public Library.  The book event, geared for third- and fourth-graders, will include making sock puppets and holding a special "draw it" time with illustrator and Reynolds Elementary art teacher Mike Conway, raffles cake and more.
Editor Tami Scott caught up with Werchinski-Yates to discuss how her writing hobby and dream to write a book came to fruition.
Why did you decide to write a children's book? Are there plans for more in your future?
I like kids. I used to be a Girl Scout leader when my children were younger and I like the fact that kids just accept you as long as you are real with them. They really do say the darndest things sometimes and they are always ready for an adventure! I wanted to make a fun book for them to enjoy.
Yes, Andy the sock's next adventure is in the works!
How did you come to the decision to self publish through Lucky Sock Publishing?
When publishing traditionally you don't have much control over the choice of font, illustrator, style, etc. and that bothered me. I had a vision of how I wanted these pictures/the book to look so I decided to do it myself to preserve that vision.
What is your book about and what or who prompted you to write about this particularly topic?
The book is about a sock named Andy who has to find the Secret Sock Club before he becomes a trash sock due to his faulty stitching. He has a lot of fun along the way and in the end he teaches his sock-buddies how to be a good friend. Andy goes through some struggles in the book also and I wanted kids to see that if you keep trying and stay positive, you can do anything.
(Continued on Next Page)
Prev Next
Vote on this Story by clicking on the Icon