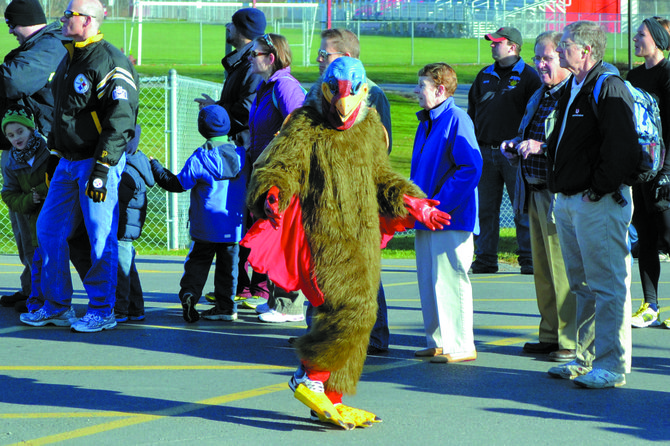 The 45th Annual Turkey Day Race returns on Thanksgiving, Nov. 28. The 5k race starts at 9:15 a.m. and 10k race starts at 10 a.m. at C.W. Baker High School, 29 E. Oneida St, Baldwinsville. There is also a half-mile kids fun run that kicks off at 8:30 a.m.
Forty-five years ago Kiwanis President Danny Stevens and members Chuck Wiltsie and Jim Goulet organized the first Turkey Day Race. The race has slowly grown over the years to become the race it is today with 2,800 participants through the volunteer efforts of many fine Kiwanians. The race was developed from an idea of the club to serve as an annual fundraiser.
Through the proceeds of the Turkey Day the Baldwinsville Kiwanis have been able to support a large number of worthy organizations in the community.
The community has been a supporter of this event from the start according to said Baldwinsville Kiwanis member Tony Saraceni.
"The many organizations that come together to make this a success are tremendous," said Saraceni. "We are so fortunate to have the opportunity to live in such a wonderful community [which] not only supports the race by participating, but [also by] hosting yard parties along the race route to cheer on our runners."
Saraceni called the race's atmosphere "positive and high energy. Because of the unique community that Baldwinsville is, many family members return home for the Thanksgiving holiday to visit with family and friends. Over the years, the Baldwinsville Kiwanis Turkey Day Race has become a part of their days events and a true tradition."
Day of race registration is from 7:45 to 8:45 a.m. in the high school cafeteria. Cost is $35 for the 5k and 10k and free for the kids fun run, which is for ages 12 and under. Registration cut off time is 20 minutes before each race starts.
Through dedicated fundraising programs, the club is an organization of Baldwinsville volunteers dedicated to changing the world one child and one community at a time. They meet in Baldwinsville at 6 p.m. on the first and third Monday of every month at the Lock 24 Restaurant.
Vote on this Story by clicking on the Icon