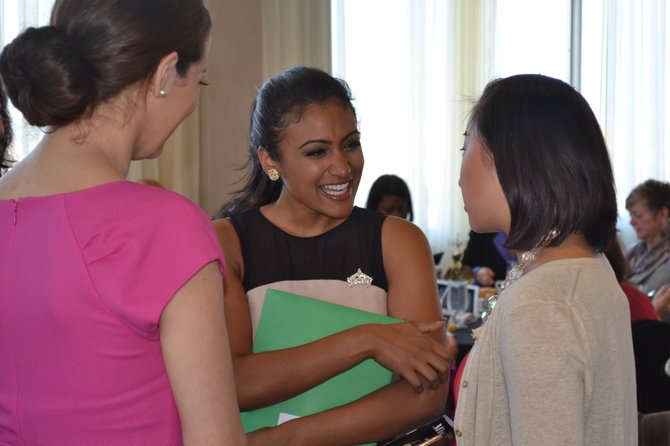 SYRACUSE — Nina Davuluri may have been home for the first time since being crowned Miss America in September, but that didn't mean she was taking the weekend off.
Davuluri was out and about for three days as a part of her "Hometown Celebration Tour," which began on Nov. 16 with a visit to Upstate Golisano Children's Hospital and concluded on the morning of Nov. 18 with a breakfast at the Crowne Plaza Hotel, sponsored by Syracuse Woman Magazine.
Around 100 people attended the breakfast, including Miss Florida Myrrhanda Jones, Miss Minnesota Rebecca Yeh and Miss America Outstanding Teen Leah Sykes. Davuluri said the Miss Syracuse title was something that meant a lot to her because she was able to get involved in the Syracuse community and represent the people she cares about.
"To be a good local titleholder… that's what this was all about for me," she said. "And what people don't realize is that not everyone gets to be Miss America or Miss New York, and local titleholders are the people reaching out to communities all across the country to people every day — and they're truly the Miss Americas in the hearts of their communities."
Davuluri, a Fayetteville native, is the second Miss Syracuse to be named Miss New York and then Miss America and the first Indian-American to hold the title.
Carrie Sunde, who was recently crowned Miss Cambridge, attended the breakfast to support Nina, who she met when they competed for the Miss Greater Rochester Pageant last year. She said that despite her recent brush with fame, she thinks Davuluri is still the same girl-next- door she met last year.
"She's very bubbly, expressive, kind and courteous," Sunde said. "I think that's what makes her a titleholder. She just doesn't think about herself and being Miss America, she thinks about everyone around her. She's done a lot of community service and has really given back to the community. She's changed a little, but [in a way that] she's matured and is really breaking out of her cocoon. She's still the girl-next-door, and a role model for me."
Vote on this Story by clicking on the Icon