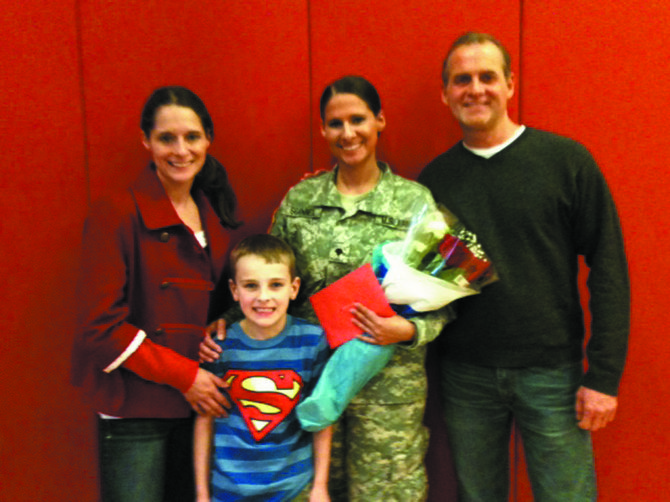 On Friday, Nov. 8, the students of Van Buren Elementary School held an assembly to honor those who had served, or are currently serving our country as members of the United States Armed Forces. Students from Van Buren invited their families and individuals from the various branches of the armed forces to be guest of the school for a special Veterans' Day celebration. Over 30 members, past and present, men and women alike, were in attendance to be recognized by the students and teachers of Van Buren. Girl Scouts and Boy Scouts, dressed in their uniforms, escorted the honored guest to their seats, as the school chorus prepared to perform a musical montage, arranged by music teacher, Cindy Doback. The assembly started with a welcome to all attending from Van Buren's principal, Michelle Crisafulli.
The small gym auditorium filled up quickly and soon became standing room only as the 45-minute choral session started. The chorus opened the assembly with singing of the national anthem of the "Star Spangle Banner". Songs and narrative speeches were then performed as the backdrop to a video presentation that showed the different eras and military conflicts that have been marked with United States involvement, from the Revolutionary War to current US military engagements. One exceptionally moving part of the assembly was when the students set a table to honor the soldiers that have passed or have been listed as POW, or MIA. The table was symbolic of an extra place setting to be held for the soldier they are waiting for. Each item placed on the table is meant to embody each of the different emotions of those wondering and waiting for the soldier to return, ever hopeful they will see their loved ones again.
The assembly concluded with cards of thanks and appreciation given to each one of the veterans from the student that invited them to the school. During the granting of cards, images of veterans from their time in service and with their families were incorporated into the final portion of the video presentation. The final song performed was "God Bless the USA", and the audience was invited to join in the singing. It was followed with a standing round of applause for the veterans and the student performers. After the assembly, students took pictures with the veterans before heading back to class for the day. Students and teachers alike were happy they got to share a few moments of the school day to honor those, as Cindy Doback summarized during the presentation,
"We are grateful to our veterans who are here to share with us today. They have done so much and sacrificed so much for our freedom. We are fortunate we can have them here with us to say 'thank you' for all they have done."
Micha L. Crook is a contributor to the Messenger. She can be reached through editor@baldwinsvillemessenger.com.
Vote on this Story by clicking on the Icon