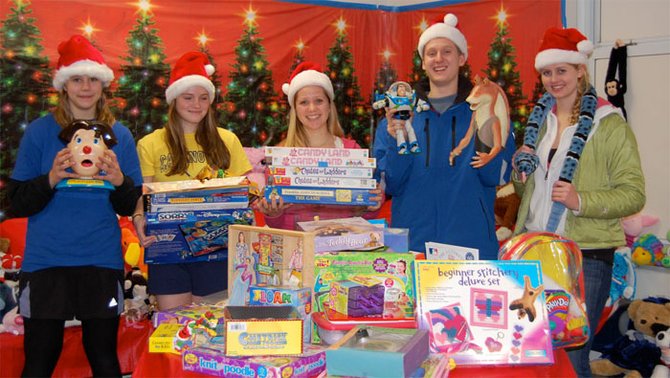 Cazenovia — This winter marks the sixth consecutive year of Project CAFÉ's Gently Used Toy Shop, and my second year of participation in the project. The event's goal is to help families stretch their holiday dollars by collecting very gently used toys and ensuring that they are Christmas-ready. Every year, the event has grown both in donations and attendance. This year, collection is taking place from Nov. 5 to Dec. 8, with donation sites at Common Grounds and area schools and churches, and the event itself is fro, 5 to 8 p.m. Friday, Dec. 13, and 9 a.m. to 12 p.m. Saturday, Dec. 14.
The Toy Shop's mission to make sure the toys are clean, put together and ready to be gifted is taken to heart by Project CAFÉ. Project CAFÉ students log approximately 200 community service hours every year cleaning and prepping toys for resale. Project CAFÉ members and non-affiliated students alike come together after school and into the evenings almost every day to clean toys, make sure they are complete, functional and ready to be purchased. The students and adult advisors involved work incredibly hard to make the event a success, as I have witnessed. Different sports teams and clubs take shifts cleaning, with many students coming back to participate individually.
This year, Project CAFÉ is asking the community continue their pattern of generous donations. The Toy Shop volunteers work very hard to make sure all the toys are high quality and, as an organization, we are asking that contributors make sure their donated toys are complete and functional. Additionally, it is incredibly helpful if pieces and parts are secured with ziplock bags or rubber bands, with instructions, if necessary. Stuffed animals should be good condition, as well. These standards of quality make the event an enormous success.
Personally, I have seen and experienced the impact the Toy Shop event has on the volunteers and the community. It is enormously rewarding to work cleaning toys and then see a child overwhelmingly excited to be able to buy their siblings Christmas presents. Many families who would otherwise not be able to have a gift-filled Christmas are enabled to do so by the event's prices. The guarantee of "Christmas-ready" quality toys ensures the happiness and satisfaction of all of the Toy Shop customers.
(Continued on Next Page)
Prev Next
Vote on this Story by clicking on the Icon