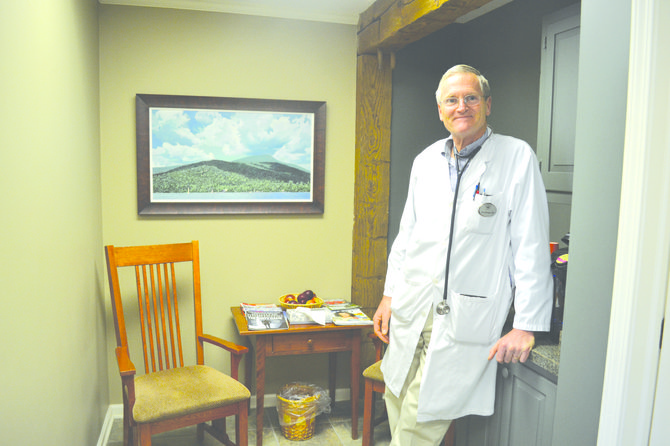 Manlius — A couple years ago, Dr. Christopher Stringer realized that he was unhappy with the way he was doing his job. When Stringer began practicing as an internist 33 years ago, he would usually see patients for at least 30 minutes at a time and he enjoyed the connections he made while talking to them. In recent years, practice focus has changed, and physicians are encouraged to see as many patients as possible each day. Appointments were cut down to about 10 to 15 minutes at a time – and for much of that time, Stringer was focused on the computer.
"The days got longer and longer, there were more patients and less time to see them," Stringer said. "Last year, I said, 'I can't keep doing this – it's getting so that I don't love the work I've done for all these years. It got to the point where all of us had just about had it."
Over the last decade, fewer people have been going into the primary care field, which means longer lines and shorter appointment times for patients. In fact, according to Stringer, it's not uncommon for some primary care doctors to see 30 to 40 patients each day. And he said that once the Affordable Care Act comes into play, those numbers could increase by 30 percent.
"It's not a pretty picture, and it's unrecognized how not pretty it is," Stringer said. "No one really knows what's going to happen with Obamacare, but I do know that there are too many patients, and once everyone has health insurance that number will continue to go up. There are not enough doctors and not enough time. I think primary care is going to increasingly be provided by nurse practitioners and physician assistants."
Stringer said that a couple years ago, he knew he was ready for a change. He first heard about personalized care practice, or concierge medicine, at a medical meeting and was immediately interested. He said he liked the idea of personalized care because it was similar to way he practiced when he first began his career.
(Continued on Next Page)
Prev Next
Vote on this Story by clicking on the Icon