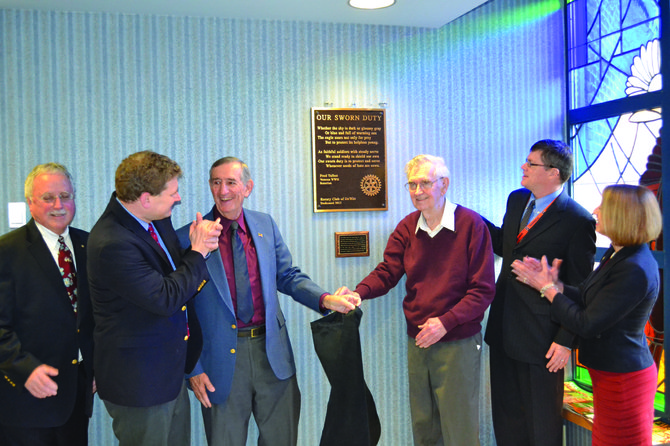 DeWitt — On Nov. 8, a ceremony was held at the Syracuse Veterans Administration Hospital to honor and recognize DeWitt veteran Fred Talbot for a poem he wrote, titled "Our Sworn Duty." The poem was memorialized on a plaque, which was hung on the wall in the main lobby on the building's first floor, and will remain there permanently.
"Today is a great day and a meaningful day for me," Talbot said. "But the real honor goes to the men and women referred to in the poem who have given, in many instances, their lives to protect us."
The poem was included in a book written by fellow DeWitt veteran and member of the DeWitt Rotary Club Mel Rubenstein. Rubenstein's book, titled "The Peacetime Draft During the Cold War," includes 19 firsthand accounts from local veterans about what it was like to serve in the military during the years between the Korean War and the Vietnam War.
Rubenstein, who served in the Army from 1957-59 at Fort Knox, said he began the process of writing what became his book after his grandson asked him what it was like to be in the Army.
"I decided to start writing down my memories: why I had to serve, how I handled it, the decisions I had to make," Rubenstein said. "Did I want to go to college first? Did I want to start my career? Did I want to get married? Did I want to delay all of those things until after [my service]? Every man I knew, unless you were physically disqualified, had those kinds of decisions to make."
He then asked his brother to write down his memories of his time in the military so he could staple the accounts together for his family members to read. As he told more people about his project, he found that many of them, who also served around the same time, wanted to write down their experiences too. "Before I knew it, it was too thick to put a staple through – it was more like a book!" he said.
(Continued on Next Page)
Prev Next
Vote on this Story by clicking on the Icon