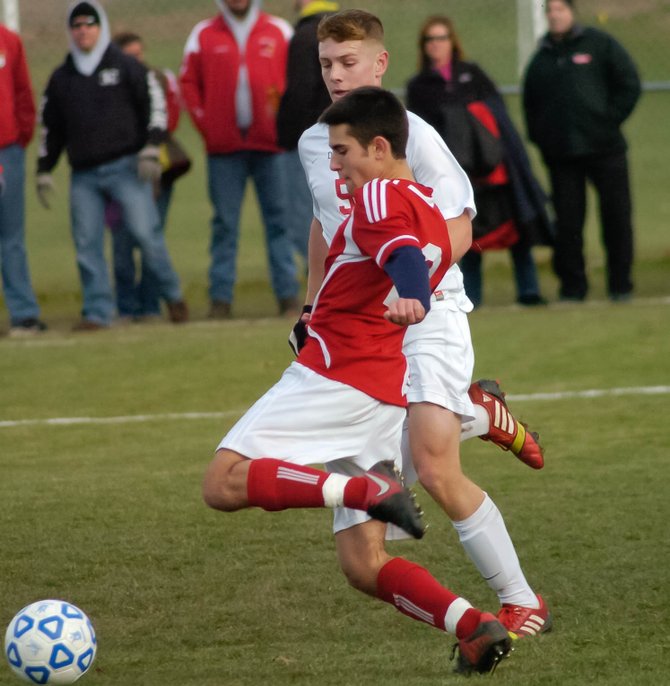 It's reaching the point where opponents will have to avoid fouling Guilderland or allowing corner kicks because sooner or later, Connor O'Brien will find a way to make them pay – as Baldwinsville did, much to the detriment of its dreams for a first state championship.
O'Brien sent a free kick on net, and teammate Chris Connolly knocked the ball over the goal line less than five minutes into the first overtime period to give the Dutchmen a 2-1 win over the Bees in last Saturday's Class AA boys soccer regional final at Colonie High School, near Albany.
"I like to think about it as my specialty," said O'Brien.
"We've been just riding the restart wave as far as we can," said Guilderland coach Mike Kinnally.
O'Brien was closer to the midfield stripe than he was to the penalty box when he launched the free kick into the penalty box. But he could see where he wanted to place it.
"I saw them (the B'ville defenders) on the back post, so I knew if they could get past their defenders and they could lay it across for one of our guys down the middle, it would work," said O'Brien.
Connolly saw the ball arcing towards him, so he got to it and knocked it past Bees goalkeeper Nick Lindovski for the game winner.
O'Brien was a big part of most of Guilderland's quality scoring chances. Whether from the corner or from the middle of the field, O'Brien's kicks consistently landed in places where his teammates could generate shots on goal.
"They had maybe one poor service," said Bees head coach Tim Scheemaker. "They were just so good on services all day."
O'Brien's first service led to Guilderland's first goal, as he sent a corner kick into the area in front of the net, and Chris Czekay sent it on to Connor Rubin, who knocked it past Lindovski for a 1-0 first-half lead.
(Continued on Next Page)
Prev Next
Vote on this Story by clicking on the Icon