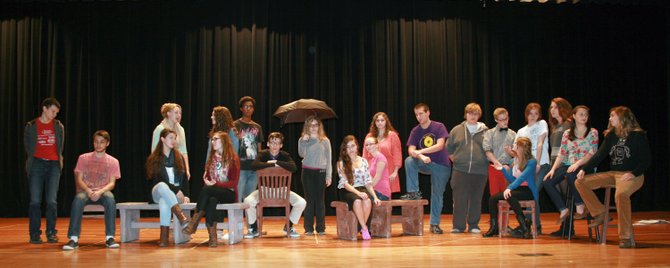 Liverpool — On a cold night in Wyoming, 21-year-old Matthew Shepard was beaten, tortured, tied to a fence post and left to die because he was gay.
Shepard suffered severe head trauma and was ultimately pronounced dead in the early morning hours of Oct. 12, 1998, at a Colorado hospital. His death sparked a national outcry for hate crime legislation at the state and federal levels.
It also attracted the attention of the Tectonic Theater Project, a group of writers and actors from New York City. Over the course of the next year, the group interviewed more than 60 residents of Laramie, Wy., where Shepard was killed. Those interviews, combined with company members' own journal entries and published news reports, were compiled together into "The Laramie Project," a three-act play that explores the introspection and healing that can occur in a community following a violent crime.
The play has been produced by groups all over the country. Liverpool High School's Casting Hall will stage its own production at 7 p.m. Thursday, November 14, and Friday, November 15, at 7 p.m. in the LHS Auditorium. General admission tickets cost $8 and will be available at the door. Some people may find the subject matter and some of the specific language of the play unsuitable for children under the age of 13.
According to producer Christine Spring, the fact that it's one of the most produced plays in the country didn't make it any easier to get permission to get it produced at LHS.
"This wasn't something that was easy to do," Spring said. "I had to keep asking permission. I did have to make sure someone read the script. We had to change the language a little bit, make it a little more PG."
However, she said she doesn't see it as a controversial show.
(Continued on Next Page)
Prev Next
Vote on this Story by clicking on the Icon