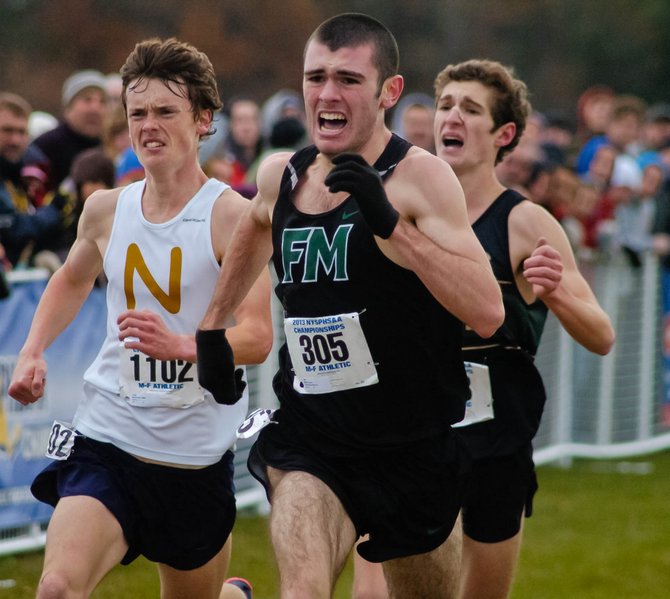 Just as it seems to do each November, the Fayetteville-Manlius cross country team offered a reminder why it is the strongest program in the state, and perhaps the nation, during Saturday's New York State Public High School Athletic Association championship meet at Queensbury High School.
The boys Hornets relied on its top three runners to build an insurmountable lead over challengers Northport and Saratoga Springs, while in the girls race F-M relied on its incomparable depth and versatility to easily earn yet another state title.
Going first, the F-M boys team relied on the same formula that worked so well against Liverpool a week earlier in the Section III meet at Jamesville Beach Park - namely, send its top trio of junior Bryce Millar, senior Andrew Berge and sophomore Peter Ryan to the front, and see what kind of a margin they could establish.
Millar, as it turned out, found himself in a classic three-way battle with Northport's Mike Brannigan and Rush-Henrietta's Mickey Burke for the individual title. They hit the finishing chute together, but Millar, in a time of 15 minutes, 6.3 seconds, edged Brannigan (15:06.6) by 0.3 seconds and Burke (15:07.3) by exactly one second.
Berge would lead the next pack to the line and take fourth place in 15:16.3, third among team participants, while Ryan finished ninth overall in 15:25 flat and got fifth-place team points.
Now out in front, the Hornets needed two more solid performances to lock up the state championship - and got them from a pair of juniors. Adam Hunt finished 13th in the team standings (23th overall) in 15:49.1, while Kyle Barber, in a time of 15:54.7, was 15th on the team side and 28th overall, which clinched it.
When all was done, the Hornets had 37 points, while Northport and Saratoga both finished with 61 points, with Northport getting the tie-breaker to earn second place. As a bonus, four members of Liverpool's team - Dan Muldoon, Ben Petrella, Connor Buck and Alex Christtensen - joined Utica Proctor's Zakaria Adam as Section III also won the team title at the state meet.
(Continued on Next Page)
Prev Next
Vote on this Story by clicking on the Icon