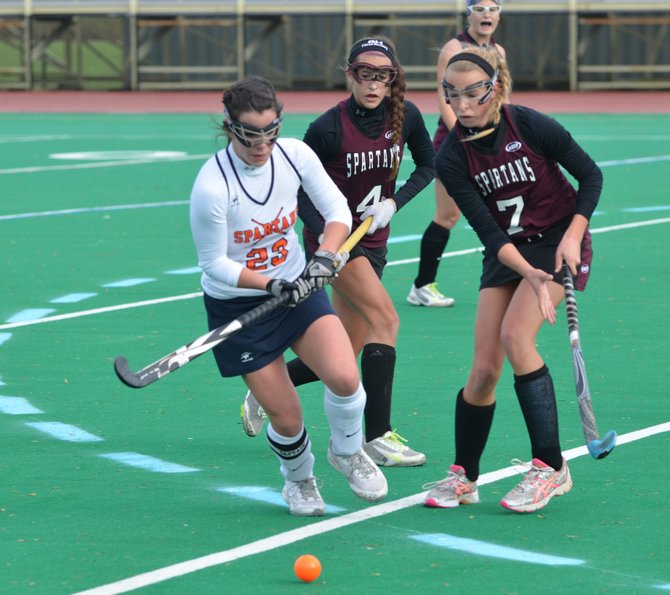 Cicero — The area's pair of field hockey Section III champions searched for successful conclusions during Saturday's regional playoffs at Cicero-North Syracuse's Bragman Stadium, but neither East Syracuse-Minoa nor Fayetteville-Manlius was able to find it.
After one 10-minute overtime period could not decide the winner of the Class B regional final between ESM andSection II champion Burnt Hills/Ballston Lake, one more was needed.
It was during that second overtime period (where the teams play seven-on-seven, as opposed to the 11-on-11 in regulation) that BH-BL's Elise Zwicklbauer created the game-winning play.
Stationed near the net, Zwicklbauer took a shot, and when ESM goalie Rachel Aird charged out Aird came out in an attempt to kick the ball away, Nicole Beardsley pounced on it and put the rebound into the net.
"I think we had the momentum going into overtime," ESM head coach Kate Sergi said. "And )we) just got caught up."
Much like the overtime periods, the entire game was a defensive battle, with both teams unable to effectively execute on offense.
Both teams fought back and forth, trading long offensive possessions that did not result in any points. Aird finished the game with 14 saves, while BHBL goalkeeper Brittany Ryan finished with four saves.
"I knew coming it that this was going to be a battle," Sergi said. "I was hoping for a different outcome,.but we had chances and we just didn't execute like we should have."
So ESM's season ended in the regional round, just as it did a year ago, when Maine-Endwell beat them 4-0 on this same C-NS turf.
As for F-M, who won its first Section III Class A title in 24 years the week before, Hornets coach Cynthia Vulcano called Saturday afternoon's 5-1 loss to Shenendehowa in its regional final "frustrating" and "disappointing."
The Hornets fell behind early, giving up four first-half goals to the Plainsmen. Shen's Claire Virkler, Anna Branch and Molly Hagen all scored off assists from Anna Bottino. With 1:31 left in the half, Casey Stata scored off a Erin Buckley pass to increase the margin to 4-0.
(Continued on Next Page)
Prev Next
Vote on this Story by clicking on the Icon