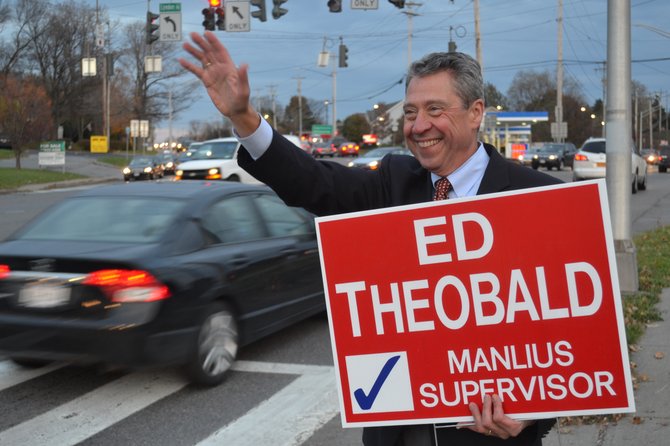 Manlius — For the second time in four years, Democratic candidate Mark Tetley and Republican Ed Theobald faced off against each other for the Manlius town supervisor seat. This time, the tables were turned as Tetley challenged incumbent Theobald for the supervisor job, but the outcome was the same; Theobald ousted him again, winning with 59 percent of the vote.
"First of all, I feel relieved that it's all done," said Theobald. "But also, I feel great that I was successful and I won it convincingly. The whole organization that put together the campaign and made it click really made a big difference."
Theobald also credited the facts that he had three endorsements this time around (from the Republican, Conservative and Independence Parties) and that he's now been in office for four years and has a record to run on for his win against Tetley.
Out of the 5,773 votes cast, Theobald received 3,320 and Tetley picked up 2,312. Since taking office in 2010, Theobald has worked on consolidation between the villages with a shared dog control service and cooperation between fire departments, he has worked to fix sewer and drainage issues and he's been appointed to the executive committee on the New York State Association of Towns.
One of his first tasks for this term will be to begin the necessary research on how to bring the Manlius Police Department closer to the town hall and provide a better building.
"I'd like to see our town hall and police department come together and be in one location," Theobald said. "We're leasing a space from the village of Manlius, and it's very expensive. I'd like to do some research to see it there's a current structure in the town – something centrally located. We want to find something established that we could renovate."
(Continued on Next Page)
Prev Next
Vote on this Story by clicking on the Icon