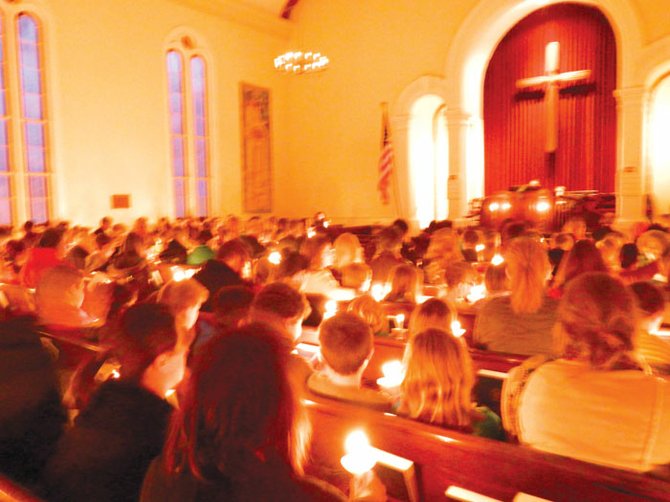 Cazenovia — Approximately 200 members of the Cazenovia community attended a prayer service and candlelight vigil last week for Charlie Thompson, the 10-year-old boy who remains in stable but critical condition in Golisano Children's Hospital after falling down a well on Oct. 26.
Family, friends and supporters of Charlie of all ages — including many of his classmates and teachers from Cazenovia Middle School — turned out to the service, which was held at the First Presbyterian Church of Cazenovia and led by Thompson family friend Rev. Ethan Worthington, Cazenovia regional minister for Eastern Hills Bible Church in Manlius.
"When I asked the Thompsons what they needed, they said the only things they needed from us was to be praying for Charlie," Worthington said at the beginning of the Oct. 30 service.
The community members filled the pews and were even standing along the sides and back of the church as Worthington said prayers and read from selected Psalms. Many attendees bowed their heads and closed their eyes while offering silent prayers to Charlie and his family, while soft music played throughout the church.
After about 20 minutes of prayers, Worthington lit a candle, which he used to light candles held by people sitting in the front pews. The candles — which were handed out to people as they entered the church — were then used to light the candles held by people in the pews behind them. Within minutes, that single flame turned into multiple flames, the church lights were turned off and the soft, golden glow of about 200 candles filled the church.
"We light these candles to represent the life that we know burns inside Charlie, and as a token of our love and a symbol of hope that burns against all odds," Worthington said. "Let this fire be a sign you want life to burn in him."
(Continued on Next Page)
Prev Next
Vote on this Story by clicking on the Icon