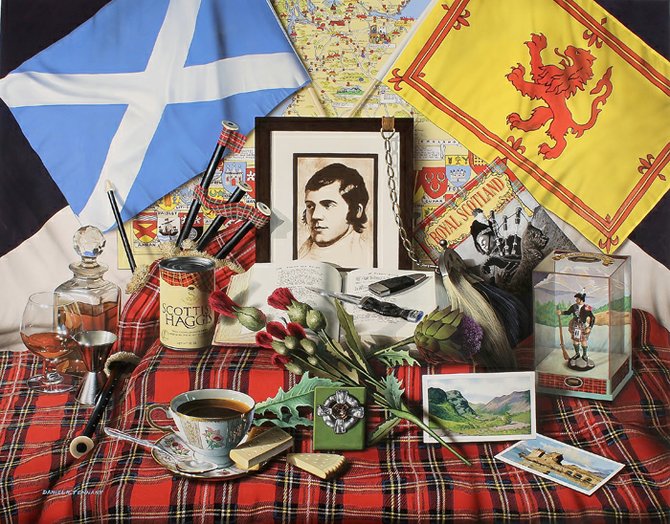 continued — In 1990, I became affiliated with Gallery Henoch in New York City and stayed with them from 1990-99. I was represented by Bernarducci-Meisel Gallery on West 57th Street from 2000-04 and had two one-man shows with them. From 2005-10, I exhibited at Hammer Galleries and am currently showing exclusively at M.A Doran Gallery in Tulsa, Okla.
Although it is wonderful to sell work, it has not been my main emphasis. With my brushes, I have enjoyed capturing my world and the impressions I have of life. Each one of us yearns to be remembered after we are gone, and having paintings framed and collected in some way leaves a little of my influence behind.
I feel privileged to be a painter and always want my work to be wholesome and positive. I know some artists who want to shock or create in anger or in protest. Being happy with my life, I have always veered away from that mentality.
To create a painting I always start with a photo shoot. After I have exposed a few rolls of medium format slide film, I get them processed and then examine them on a light table with a lupe (magnifier). When I have decided on which still-life I will paint, I transfer the drawing onto a piece of 8-ply museum board attached to a large plywood support on an easel. I always work vertically, starting with the background and working my way forward in the painting. A typical painting can take a few months to complete.
Over the years, I've exhibited all over the country, have written a book on my techniques, and have entered many shows. Karen, my wife of 36 years, has been my biggest supporter and often critiques my finished work. She, too, is a painter and makes canvas floor cloths in her studio. As both a father of four and grandfather of four, I hope my paintings can be a way of showing my family how much I appreciate the beautiful world God has created.
My book, "Realistic Painting," is available online. If you would like to see more of my work, my website is danielktennant.com. I invite all of you to stop by the Cazenovia Public Library Art Gallery to see my exhibit.
The library art gallery is open during regular library hours: 9 a.m. to 9 p.m. Monday through Friday, and 10 a.m. to 5 p.m. on Saturday.
For more information on this exhibit or other events at the Cazenovia Public Library, call 655-9322 or visit cazenoviapubliclibrary.com.
Vote on this Story by clicking on the Icon