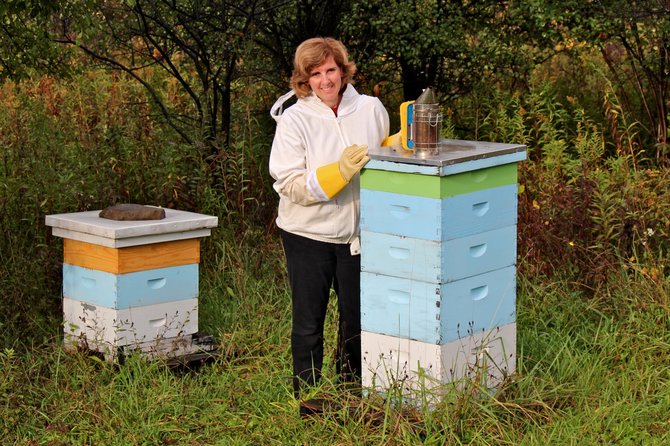 continued — Is there anything you'd do differently knowing what you know now?
I've made lots of mistakes while learning how to take care of the bees. This year I started a new hive called a "top bar" hive that didn't make it because the queen left the hive. Next year, I'll try to figure out if I can do something different to make it work.

What are some of the most surprising things you learned about bees?
Honeybees are so fragile right now, and we depend on their pollination for so much of our food supply. At the end of the summer, it's great to be able to harvest some of their honey. But I think most beekeepers will tell you that the main goal is keeping our hives alive through the winter and into the next season. This is just a hobby for me, but for commercial beekeepers with hundreds or thousands of hives, saving the bees has become an incredible challenge.
Is honey the only thing you get from your hives?
We also harvest the wax out of the hives and render it down to beautiful, yellow beeswax. During the winter we use the beeswax to experiment making soap, lip balm and even furniture polish. It's a fun way to spend the winter months when it's too cold to get into the hives.
What advice would you have for others interested in beekeeping?
Do what I did and get some books out of your local library. Hobby beekeeping has become more popular over the past few years, so there are lots of books available through the Dewitt Community Library and the OCPL library system. Also, there is the Syracuse Area Beekeepers Club that you can find on Facebook. Most importantly, I'd try to spend some time with a beekeeper at his or her hives. Before you buy any bees or beekeeping equipment, make sure you enjoy hanging out with the bees. It's not a hobby everyone would enjoy, but it's been a wonderful experience for my family and me.
Find out more about beekeeping and taste some honey at the DCL for Terrific Thursdays: The Wonderful Honeybee on Thursday, November 21 at 11:30 am. Terrific Thursdays are programs geared for homeschooled children ages 5 and up and their caregivers, but all are welcome to attend. Registration is required.
Vote on this Story by clicking on the Icon