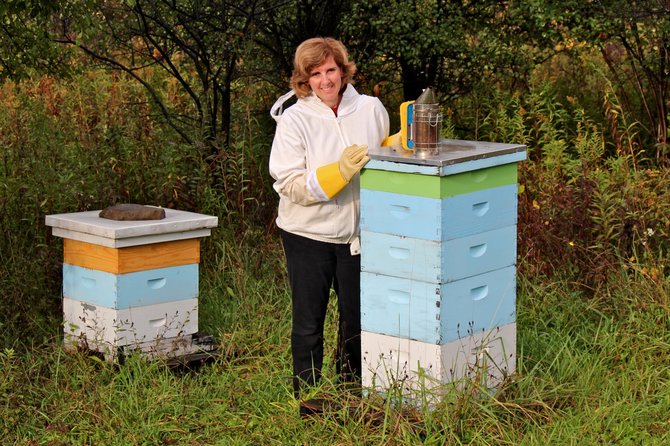 DeWitt — Emily Wormuth is a part-time children's librarian at the DeWitt Community Library and a beekeeper. This year, as part of a program series for homeschooled children, Emily will be talking about her beekeeping experiences and the wonderful honeybee. We thought we'd share a few of these fascinating details with Eagle Bulletin readers.
How did you first get into beekeeping?
My father let beekeepers use his land for their hives when I was growing up. I've had an interest in bees for a long time, but I really didn't know how to keep bees. Before I worked at DCL, I was a frequent library patron. About six years ago, I was browsing through the new nonfiction shelves and found a book about beekeeping. That book sparked my interest in starting my own hive. True story…it all started with a library book!
How easy or hard did you find it?
If you're new to beekeeping it really helps to have someone help you with the first couple of years of managing a hive. A family friend mentored me when I first started, which was invaluable. There are so many threats to honeybees, from colony collapse disorder to mites and pesticide exposure that can destroy a hive. One of the challenges is figuring out the best way to try and manage those threats. And sometimes you're not successful. It's a terrible feeling when one of your hives dies off, and sometimes you're not exactly sure what happened.
How do you protect yourself from getting stung?
Honeybees are really pretty gentle. After five years of beekeeping I've only been stung a handful of times. One thing we try to do is listen to the bees when we're in the hive. If the bees don't mind you being around, they'll make a low, gentle buzzing sound. If that buzzing begins to buzz louder and angrier, the bees are not so happy to have you around, and we'll step away. There are plenty of beekeepers who wear no protective clothing…or only wear a veil to protect their heads. Because we started our hives when my kids were pretty young, we wear bee suits and gloves to be on the safe side.
(Continued on Next Page)
Prev Next
Vote on this Story by clicking on the Icon