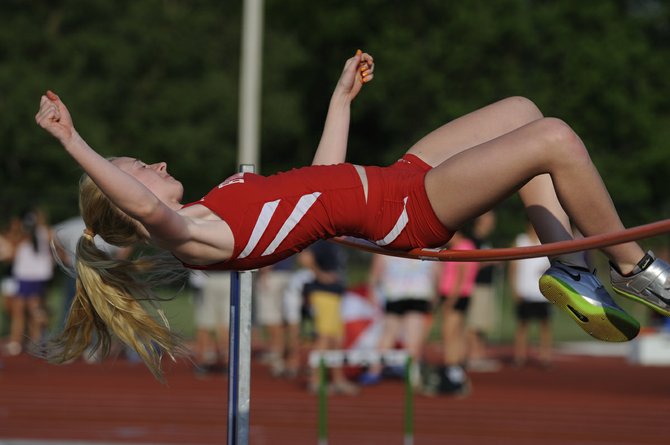 Cicero — On both the boys and girls sides, Baldwinsville's track and field athletes thrived in the summer heat during Thursday's Section III state qualifying meet at Cicero-North Syracuse's Bragman Stadium.
Alec Peinkofer is heading to this weekend's state championships at Middletown, the senior set to cap his high school career in the Division I (large school) 800-meter run. At the qualifier, Peinkofer finished in one minutes, 54.73 seconds, beating Liverpool's Alex Christensen by 3.66 seconds.
Meanwhile, in the 400-meter dash, the Bees went 1-2, as Nate Wicks and Jeff Mahar pulled away from the field, Wicks prevailing in 50.60 seconds and Mahar getting second place in 50.79 seconds.
In girls action, Emily Soeder was victorious in the high jump, clearing 5 feet 3 inches with fewer misses than Rome Free Academy's Dana Husband. Shawn Calnan was third in the boys high jump, only able to top 6 feet.
B'ville almost added a victory in the boys 4x400 relay, as Wicks and Mahar, teaming with Brennan LaQue and Dan Walker, went back and forth with Fayetteville-Manlius throughout the race before Austin Perez inched away from Wicks in the homestretch and the Hornets won, 3:24.45 to the Bees' time of 3:25.92.
It was the same story in the 4x100 girls relay. Angelica Tomasello, Gabby Jordan, Stephanie Vasteno and Cierra Allen pushed B'ville to a time of 49.71 seconds, topping everyone except Liverpool, who won in 49.08 seconds.
As if that wasn't close enough, Allen, in the 400-meter dash Division I final, hit the line in 59.16 seconds, and still was second, 0.01 seconds behind Corcoran's Patrice Williams, who prevailed in 59.15 seconds as Katie Wicks finished sixth in 1:05.06.
In the 4x400, Allen, Wicks, Mackenzie Ross and Marissa Lathrop were second in 3:59.10, again with Liverpool (3:58.06) on top. Julia Johnson, Meghan Hull, Kelley Hull and Nicole Piontkowski finished the 4x800 in 10:21.13, fourth among Division I sides.
(Continued on Next Page)
Prev Next
Vote on this Story by clicking on the Icon