Baldwinsville — It is almost here. Keep the Ball Rolling (KBR), the all-night alcohol/drug-free celebration that takes place immediately following Baker High School's Senior Ball, will take place on May 24. Fortunately, our community continues to demonstrate its support of our efforts to keep our senior class members safe.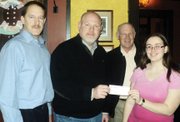 $1,000-plus contributors
Our most generous supporter continues to be Burdick Automotive BMW, Ford, Lexus, and Toyota-Scion. They will be donating a certified-used vehicle (details soon to be announced); the Baldwinsville Teachers' Association (BTA) will present a Barnes and Noble gift card to every Baker High School Senior; the Optimists contributed $1,000 to the event; and a new contributor is Jai Il Inc.
$500-plus contributors
The Kiwanis recently presented a check to Baker High School student Emily Ekross; Allstate insurance has pledged an iPad II; and Hudson & Mowins donated 100 percent of the funds raised from oil changes performed on April 17 to KBR.
Though the planning is well underway, we are still seeking volunteers to staff the event, for more than 75 people are required to ensure our seniors and their guests have fun and are safe. For security reasons, all volunteers must be cleared in advance of the event by the district office. In addition, volunteers must participate in a tour led by Principle Joe DiBarberi to become familiar with where the KBR activities will take place. Therefore, if you are interested in volunteering, contact Laurie Noll, KBR chair, at laurie.noll@gmail.com or Corinne Johnston, PTSA president, tcmmb@aol.com on or before May 20.
Lorraine Zahn is a member of the KBR committee.
Vote on this Story by clicking on the Icon