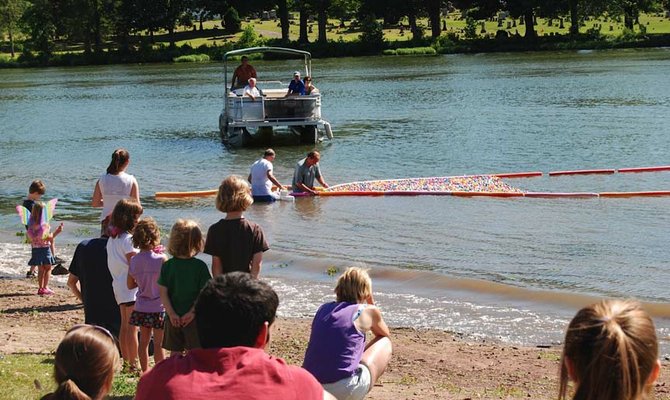 Baldwinsville — The Rotary Club of Baldwinsville's 19th annual Seneca River Day will take place Saturday, June 15.
Among many family-friendly events that day, one of the main attractions is the Great Seneca River Duck race. Approximately 3,500 plastic ducks will be dumped into the river and race to a finish line made of fun-noodles. The first eight ducks to cross the line will determine who wins prizes that include cash, gift certficiates and gift baskets full of items from local businesses. First place is $1,000 cash.
The Rotary Club of Baldwinsville has hosted this event for almost two decades.
"It is a 'river day,' so we want to do events that take place on the river. A duck race is fun for all ages and has been an entertaining way to raise money for the club," said Club President Charlie Farrell.
All the funds raised by the duck race go to the Rotary Club, which then uses them for programs and donations it makes throughout the year. In 2012, the club made donations that support the local food pantry, the Baldwinsville wrestling and little league programs, OnPoint for College, Hurricane Sandy relief and more. The money also funds the three college scholarships that the club gives out each year, the annual Senior Citizen Holiday Luncheon, participation in the foreign exchange program and many more programs that keep the volunteer club busy each month.
The community is invited to Mercer Park starting at 10 a.m. for food, kids' activities and more as part of Seneca River Day. Admission is free for all and most children's activities are also free. The Great Seneca River Duck Race will start at 7 p.m., with winners announced immediately after. Also right after the race is a concert by the Community Band and, at dark, a fireworks display over the river.
(Continued on Next Page)
Prev Next
Vote on this Story by clicking on the Icon