continued — Baker pointed out that this isn't the first time Lt. Miles has had a role in the Memorial Day Parade.
"In 2008, Lt. Miles chosen to recite Lincoln's Gettysburg Address [at Riverview Cemetery]," Baker said.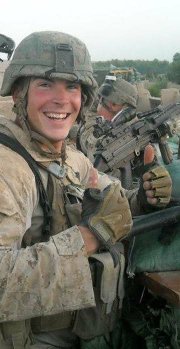 Grand Marshall Cpl. Kyle Schneider
A 2006 graduate of Baker High School, Cpl. Kyle Schneider made the ultimate sacrifice in Afghanistan when he was killed in action on June 30, 2011. Cpl. Schneider will be represented by his parents, Rick and Lorie, as Grand Marshall of this year's parade.
After deploying to Afghanistan in January of 2011 in support of Operation Enduring Freedom, Cpl. Schneider operated with his platoon out of Patrol Base Amoo and Patrol Base Hanjar in the Sangin District, Helmand Province, Afghanistan. He survived a direct IED blast while on patrol in May 2011. After care for his injuries and observation, Cpl. Schneider insisted he be sent back to his combat outpost in Sangin. He would not leave his men to whom he was devoted, for which he was awarded the Purple Heart Medal. On June 30, 2011, he was killed in action heroically protecting his men. Cpl. Schneider was posthumously awarded a second Purple Heart. He gallantly rests with valor.
"Schneider was a man who most people pray to be like. He was brave, he was loyal, he was humble and the thing I knew him most for, he was selfless," said Capt. Glenn P. Baker, the commanding officer for Company E, 2/8. "In the end though, he lived like he died. Putting others before himself with the same fervor, curiosity and paternity that wouldn't let him put another in harms ways without taking most of the danger himself."
Parade, Memorial Service Itinerary
5:45 p.m. Veteran's Monument, East Genesee Street – Placement of memorial wreath and raising the colors
6:15 p.m. Wreath ceremony at the bridge over the Seneca River
Vote on this Story by clicking on the Icon