Baldwinsville — Patriotism, sacrifice and love of one's country.
These three qualities define the two men chosen to lead this year's Baldwinsville Memorial Day Parade – 2nd Lt. Nolan Miles who was selected to be the President of the Day and the late Cpl. Kyle Schneider who was selected as Grand Marshall.
"These boys were young boys when 9/11 happened," said Sarah Baker, co-chair of the Baldwinsville Memorial Day Parade Committee. "Both of these young men were in high school together and both grasped the message of patriotism and stepped up."
This year, the parade committee chose to honor the men and women of the Armed Forces who served in Afghanistan and those who are currently serving around the world both at home and abroad. Baker added another focus is on how the annual parade and memorial service impacts young adults.
"It is of great importance that the community attend the traditional ceremony at Riverview Cemetery," Baker said. "This is a wonderful opportunity for parents to share the rich history of Baldwinsville and to raise awareness in our children of patriotism, sacrifice and love of one's country."
Held on the traditional Memorial Day, originally called Decoration Day, as dictated by General John A. Logan on May 5, 1868, the Baldwinsville Memorial Day Parade will begin at 6 p.m. Thursday, May 30, traveling along East Genesee Street then turning left onto Syracuse Street. Bands participating in this year's parade include: CNY Police and Fire Band, The Island Band, City of Syracuse Highland Pipe & Drums, C.W. Baker High School Band and Baldwinsville Community Band.
The parade will be followed by two ceremonies at St. Mary's Cemetery (first) and Riverview Cemetery (second). See breakout box for details.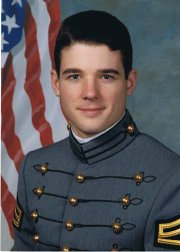 President of the Day/Guest Speaker
The son of Maureen and Kevin Miles, as well as the oldest of four children, Lt. Miles is a 2009 graduate of Baker High School and a recent graduate of West Point. Miles received a bachelor's degree in computer science from the United States Military Academy and is a newly commissioned second lieutenant in the engineers branch looking forward to the Basic Officer Leaders Course at Ft. Leonard Wood, MO. Afterwards, he will go to Ft. Carson, CO, to serve in the 4th Infantry Division.
(Continued on Next Page)
Prev Next
Vote on this Story by clicking on the Icon