Baldwinsville — Erica Barnell and Stephanie Ball are first-place winners of the 2013 Big Idea competition sponsored by Cornell University's Entrepreneurship@Cornell Council.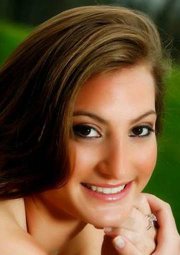 Barnell, the daughter of former Baldwinsville resident Michael Barnell and his wife, Vicki, and granddaughter of former Baldwinsville residents Catherine Barnell and the late Thomas M. Barnell, and Ball, of New Jersey, were among 170 initial entrants in the eight-week competition.
In April, the eight finalists presented their ideas to 200 faculty members and alumni business personnel at an entrepreneurship conference associated with Cornell's graduate business school. Barnell and Ball received the $2,000 first prize from the Vijay and Sita Vashee Promising Entrepreneur Endowment Fund, for developing a concept for biologically engineering peanut plants to produce a hepatitis B virus vaccine.
Traditionally, after the hepatitis B vaccine is chemically produced in Western countries, its potency is maintained by refrigeration and it is administered by hypodermic injection. But in Third-World countries, especially the poorest ones, refrigeration is expensive and often unavailable for the storage of the vaccine. That makes programs that rely on injection problematic for many reasons, including the risk of HIV and the spread of malaria. Barnell and Ball proposed the modification of bioengineering techniques to enhance the growth of peanut plants so the plants could maintain the hepatitis B vaccine until it was needed.
In the resulting plant form, the vaccine wouldn't require refrigeration, it could be harvested locally and then converted to an edible product, which would be consumed rather than injected. Barnell and Ball hope to further develop their technology and distribute the vaccine through the company they've named PharmaSEED. They are also submitting proposals for grant money that would allow them to continue PharmaSEED's development and expansion to distribute other vaccines and medications in a similar manner.
Following her graduation from Cornell in May, Barnell, of St. Louis, Mo., will work at Washington University Medical School, continuing the work she started there last summer.
Vote on this Story by clicking on the Icon