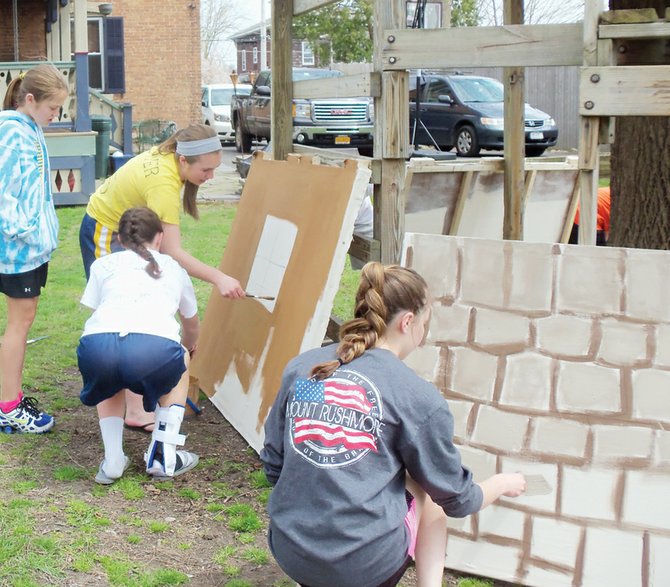 Baldwinsville — Four prominent persons from the past – John and Lydia McHarrie and Jonas and Betsy Baldwin – will come to life atop the McHarrie's Legacy float on May 30. The entry will celebrate the contributions made to this community by the first permanent settlers and by the family who most influenced development of the region.
John and Lydia McHarrie arrived from Maryland in 1794 becoming the area's first permanent white settlers. They built their cabin on the south shore of the Seneca River near where the dam is now and made their living by portaging river travelers around the falls. Two of the travelers they helped were Jonas and Betsy Baldwin who stopped here in 1798 and were very impressed by the beauty of the area. So impressed, in fact, that they returned 10 years later and settled here in 1808.
One recent Saturday about a half-dozen young people assembled to paint a pre-fabricated replica of John McHarrie's cabin, which will be the focal point of the historic tableau featuring those four early inhabitants. Of course, John McHarrie did not have the luxury of pre-cut pieces, so the assembly of his cabin took longer and the finished product was probably a little rougher.
The parade will form Thursday, May 30, on Lock Street. After a brief service of remembrance held at 5:45 p.m. at the Veterans' Memorial in front of the post office, the procession will step off at 6 p.m.
McHarrie's Legacy float organizers Mary Hartigan and David Weaver encourage both children and adults to decorate bicycles or scooters and ride along with the float. Wave a flag and walk along. All are welcome to join the fun. For more information call 638-2452.
Vote on this Story by clicking on the Icon