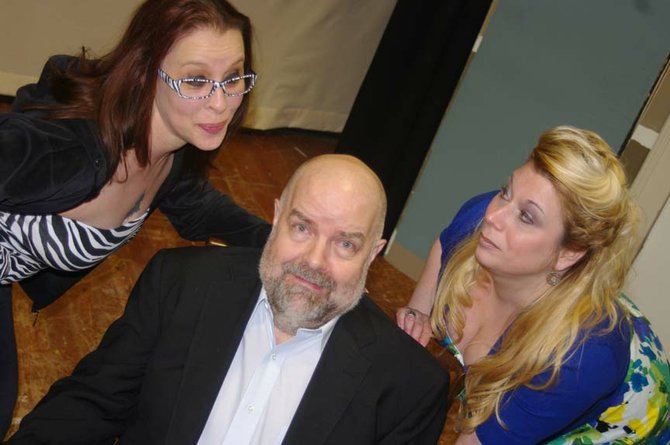 Baldwinsville — Pete and George have been best friends forever.
In fact, they're such good friends that George has been Pete's best man at both of his weddings.
Pete, now happily married to Sarah, is appalled when George delivers the news that Pete's first wife, Jessica, did not die in a mountain-climbing accident as they had thought but is alive and well and keen to resume her life with Pete.
This unexpected revelation leads to hilarious situations in the British farce "First Things First" being staged by the Baldwinsville Theatre Guild, May 17 through June 1, at the Presbyterian Education Center, 64 Oswego St., Baldwinsville.
Pete and George will be portrayed by Jon Wright and Pat Bridenbaker, respectively. Heather Jensen plays Pete's new wife, Sarah, and Denise Ballou portrays Pete's domineering new mother-in-law.
Tammy Wilkinson plays Pete's first wife, Jessica, who surprises everybody by surviving a fall in the Himalayas. Another shocker ensues when Jessica's new mountaineer friend, Alan, played by Mike Callahan, arrives on the scene.
The play was written by the late English character actor Derek Benfield.
The BTG production of "First Things First" is directed by Jon Barden assisted by Robin Bridenbaker. The show is sponsored by Eye on Decor and Ashley Furniture.
Performance dates are at 7:30 p.m. Friday and Saturday, May 17 and 18, 24, 25 and 31 and June 1; and at 3 p.m. Sunday, May 26. Tickets cost $15 for adults and $13 for students. Admission for seniors costs $13 at the May 26 matinee only. For reservations, call 877-8465.
Vote on this Story by clicking on the Icon